HOW TO BUY FROM US VIA ONLINE (click link below)
CARA MEMBELI DARIPADA KAMI MELALUI ONLINE (click link di bawah)
BUY USING DESKTOP/PC
TUTORIAL DALAM BAHASA MELAYU
1.Layari laman web kami https://uswah.my
2.Klik "LOGIN" seperti di bawah (web browser : Chrome,IE,Safari, Mozilla)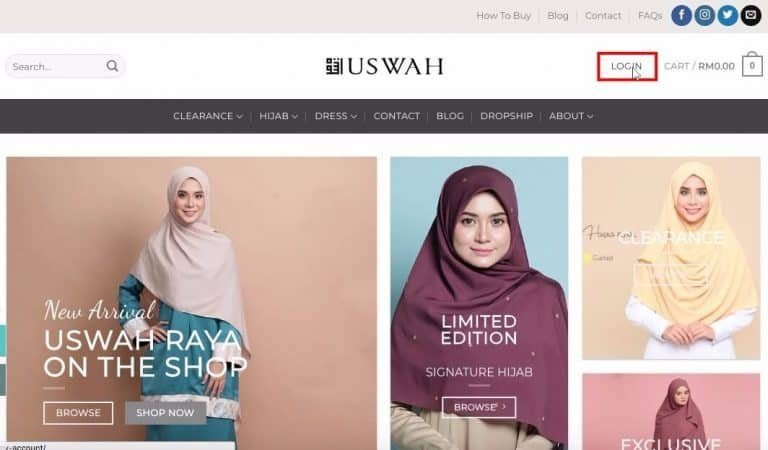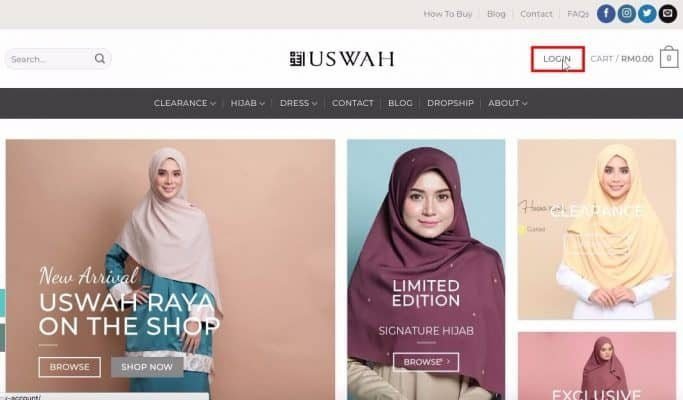 Pilih TAB KANAN dan isi ruangan : EMAIL & PASSWORD . Kemudian klik REGISTER (untuk web browser)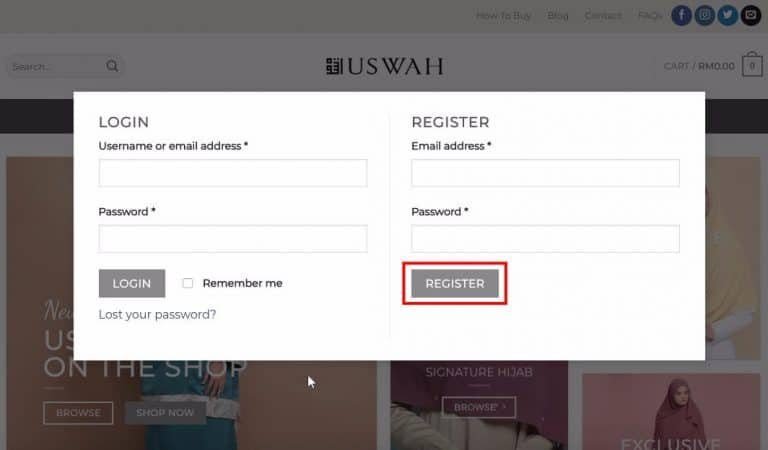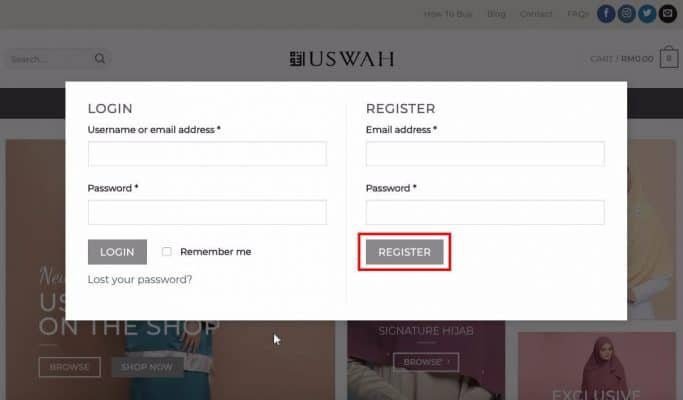 3. Jika anda layari melalui telefon bimbit, ia kelihatan seperti di bawah :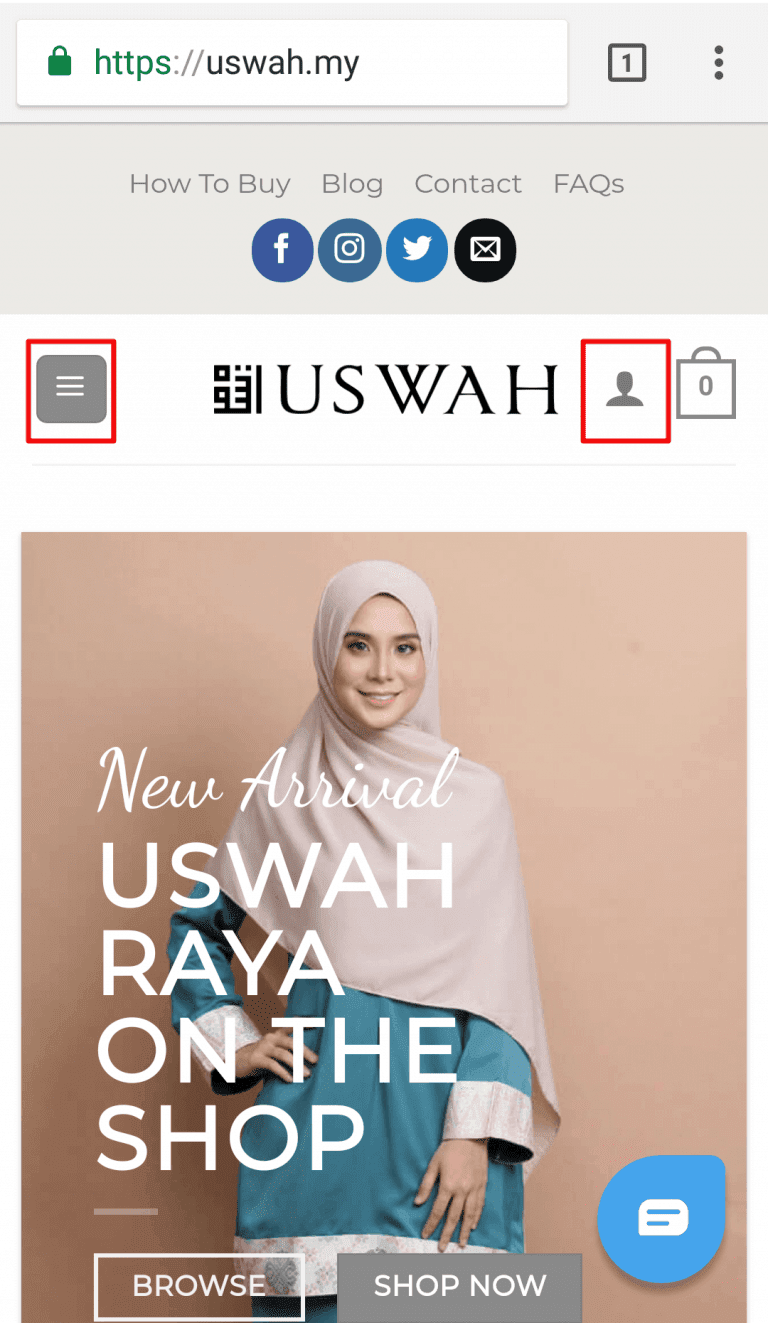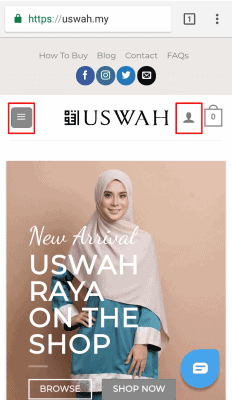 untuk TELEFON BIMBIT ada 2 CARA UNTUK MENDAFTAR :f
a) Klik 'PERSON ICON' di sebelah kanan dan "REGISTER" di ruangan bawah.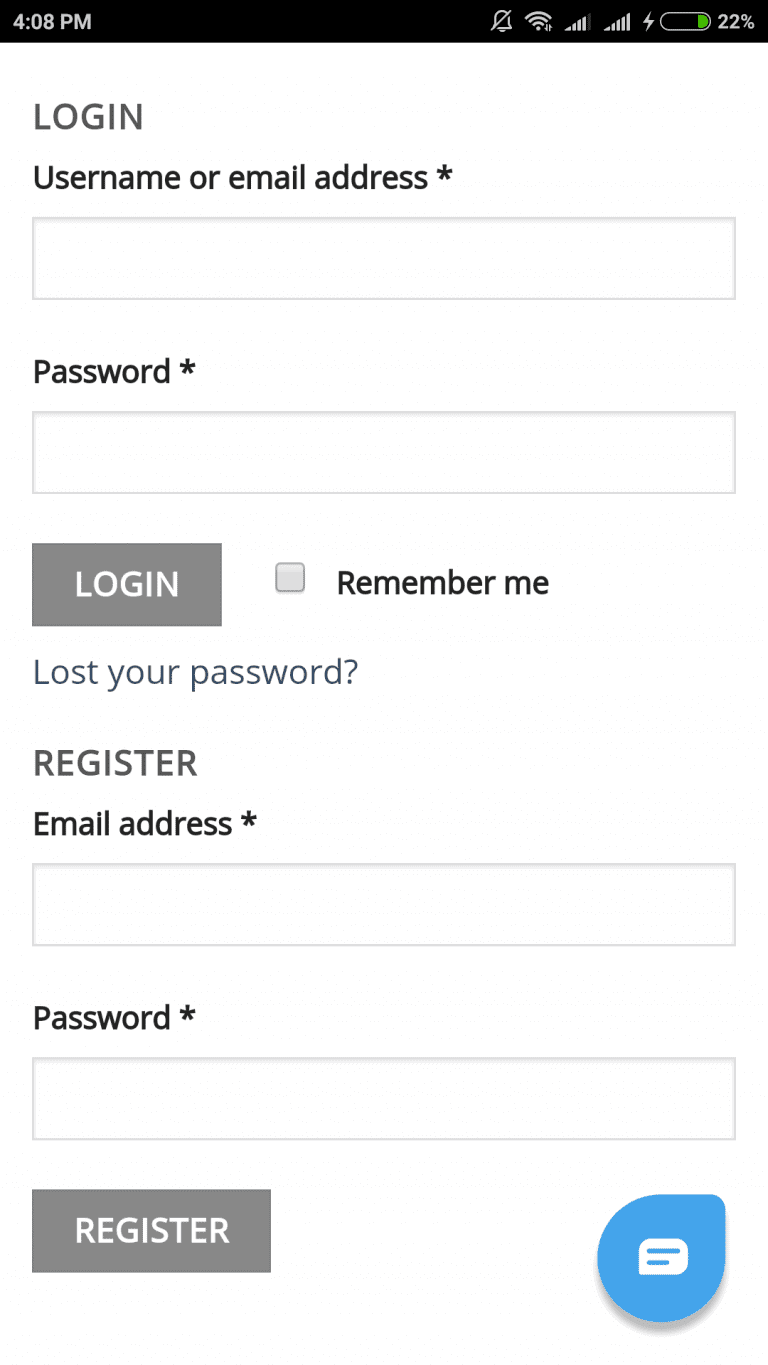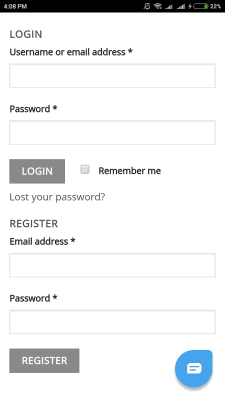 b) atau 'BURGER MENU' di skrin sebelah kiri. Pilih 'LOGIN' (contoh di bawah dan isi ruangan "REGISTER" seperti contoh di atas.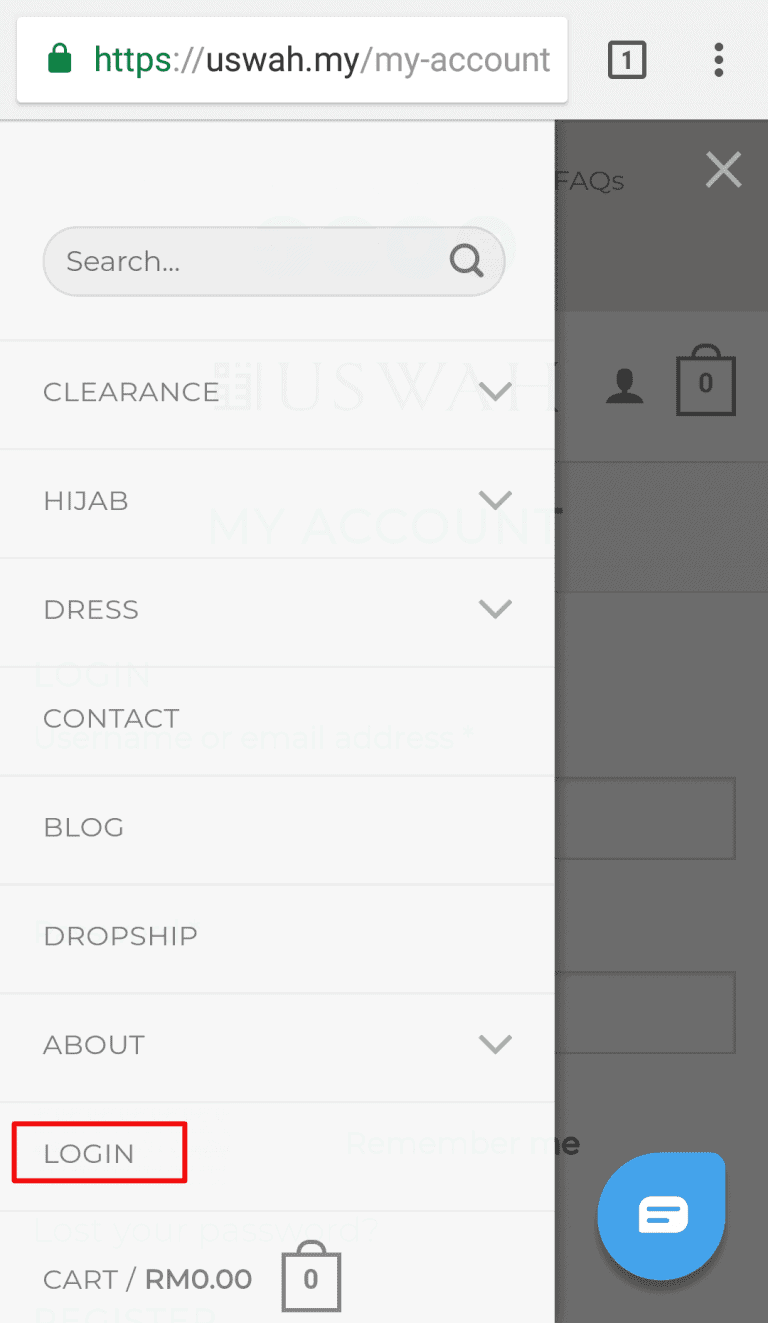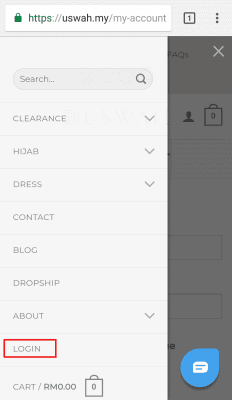 4. Sebaik anda berdaftar, anda boleh membeli secara terus di laman web kami. Kami juga menghantar link ke email anda untuk rujukan seperti di bawah.


5. Produk kami ada 3 Kategori Utama iaitu CLEARANCE, HIJAB AND DRESS seperti di bawah :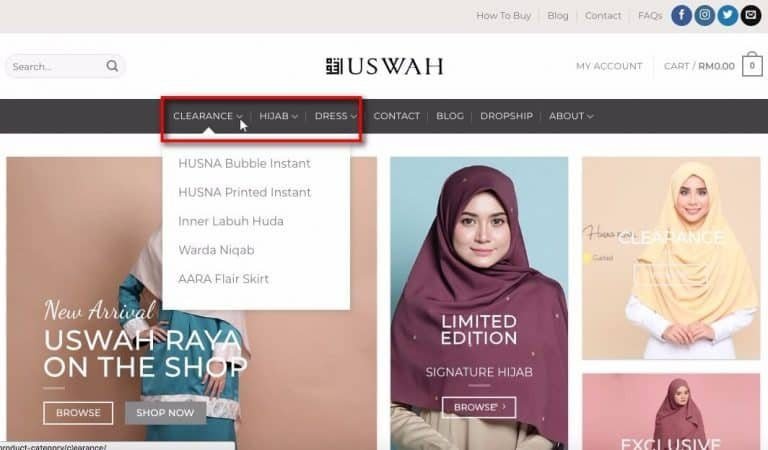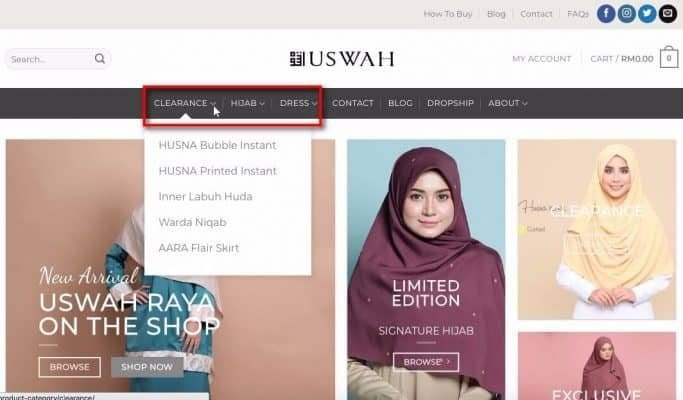 6. Setiap KATEGORI UTAMA, kita ada sub kategori. Anda boleh layari yang sesuai dengan kehendak anda.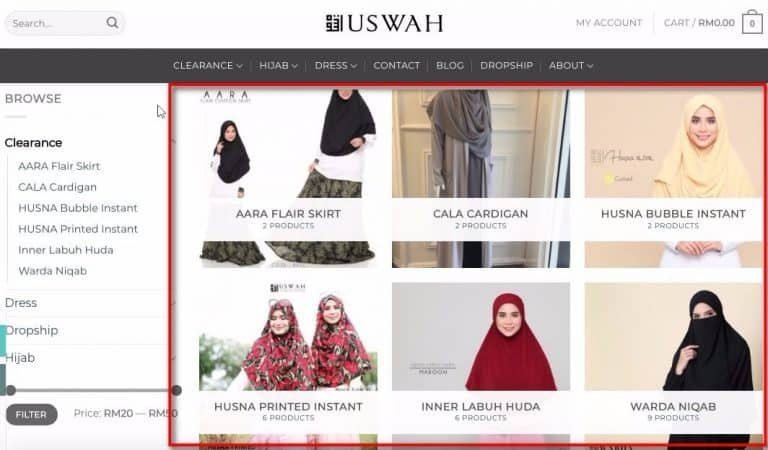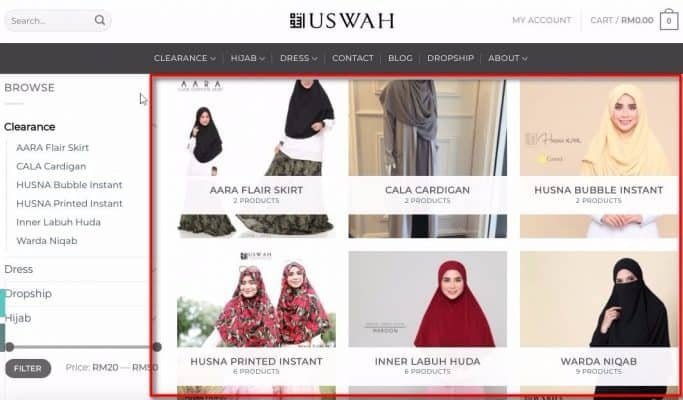 7. Setiap kategori yang anda cari, ada warna gelap dibelakang setiap kategori yang anda klik untuk memudahkan pencarian anda.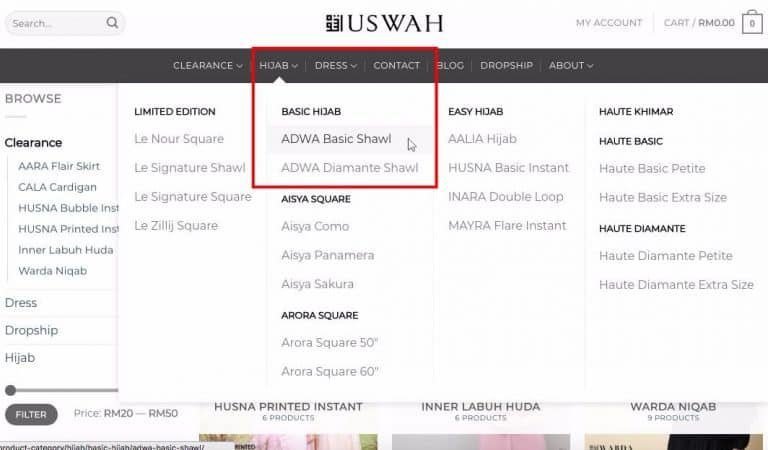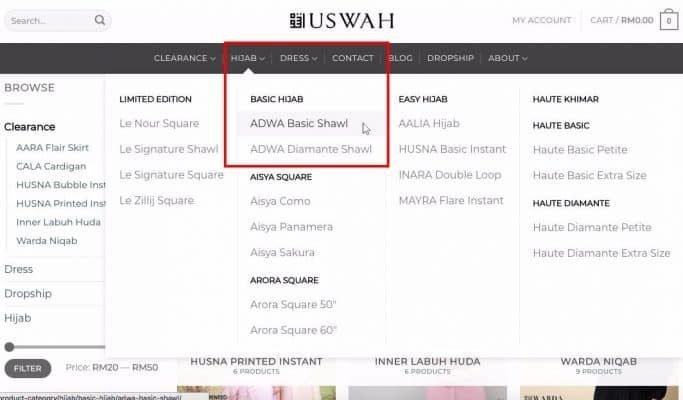 8. Setelah anda pilih produk sebagai contoh ADWA Basic Shawl, klik select OPTION atau GAMBAR PRODUK ITU SENDIRI.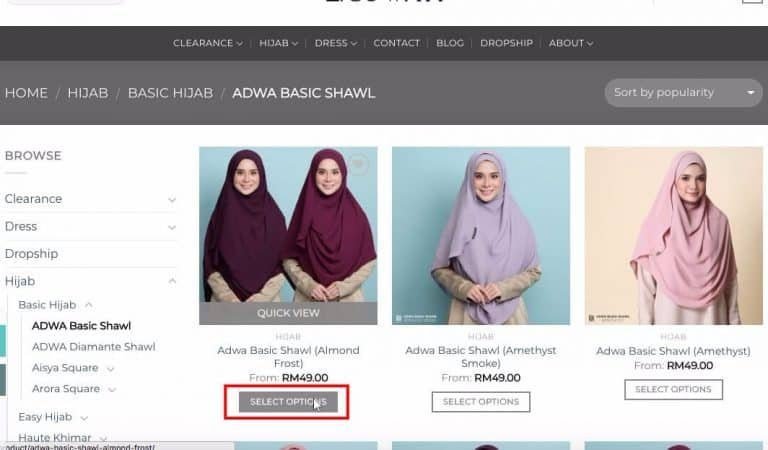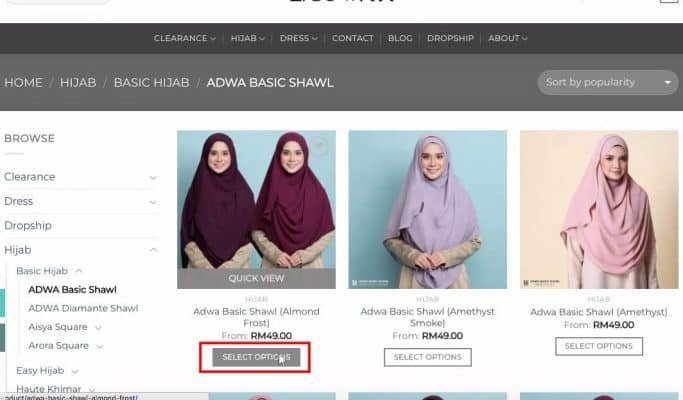 9. Pilih Choose an option bagi produk anda. Ia mungkin dari segi saiz, pilihan tambahan seperti DIAMANTE untuk beberapa produk di bawah kategori HIJAB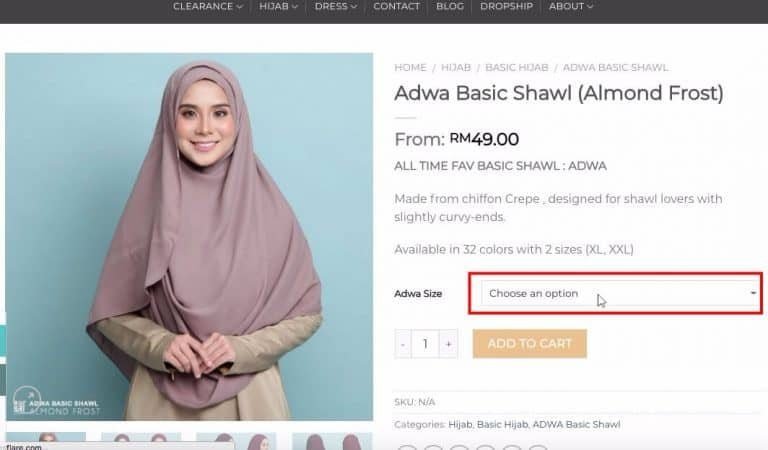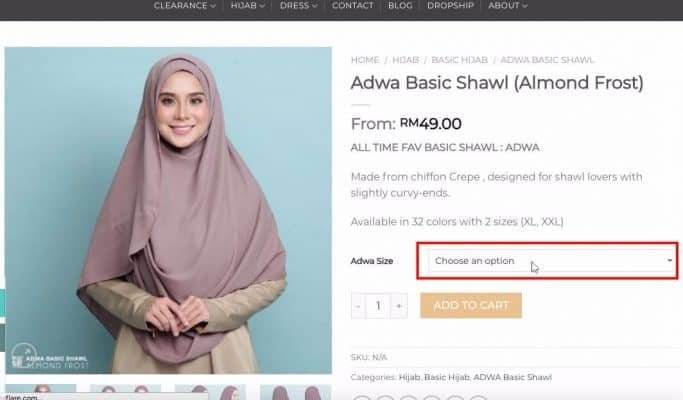 10. Sebagai contoh kita ada 2 saiz pilihan untuk ADWA Basic Shawl yang mana saiz XXL ada tambahan harga disebabkan saiz ukuran.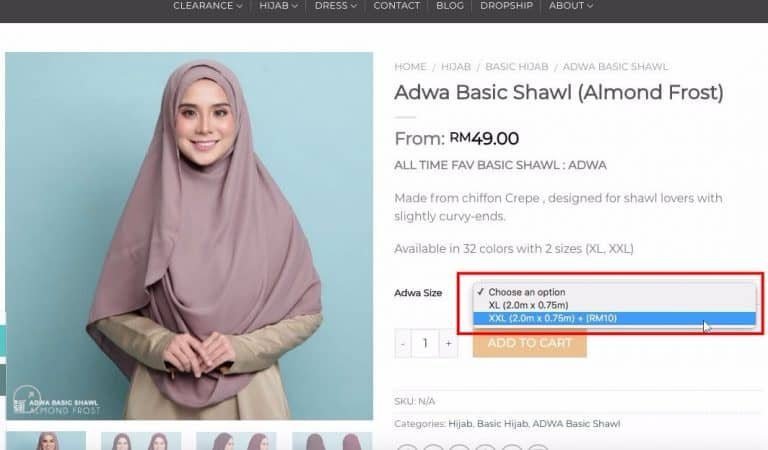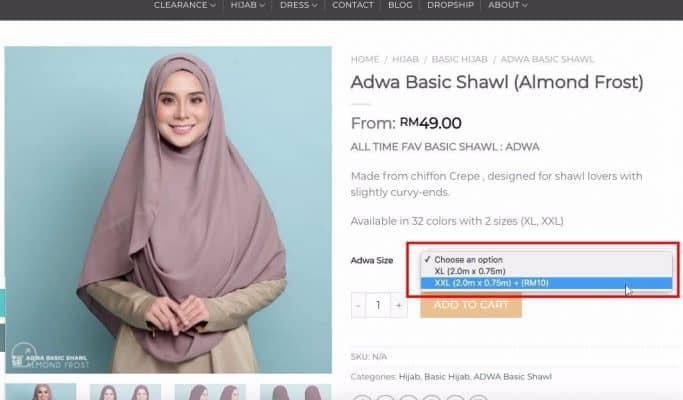 11. Di bawah imej utama (box 1), anda akan nampak imej tambahan yang mengandungi perbezaan saiz, pilihan tambahand seperti DIAMANTE.
Setelah anda pasti dengan pilihan anda. sila klik ADD TO CART (box 2) untuk keluar.
**Jika anda perasan harga yang terpapar. Ada diskaun diberikan bergantung pada kuantiti. Sebahagian besar produk kami boleh dibeli secara COMBO / 2 unit atau borong.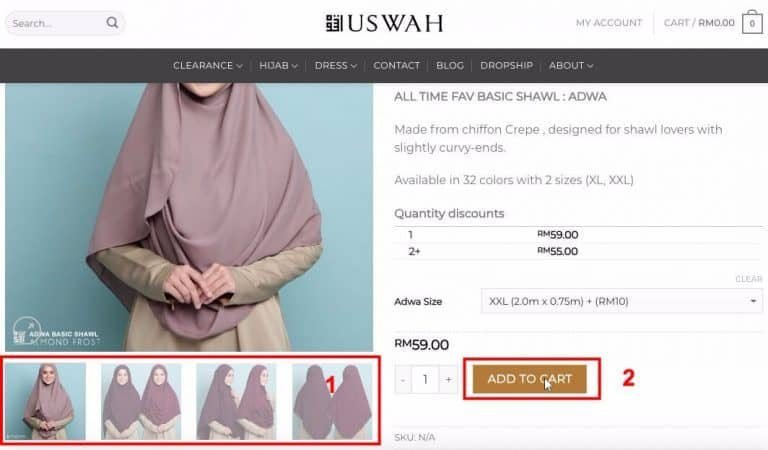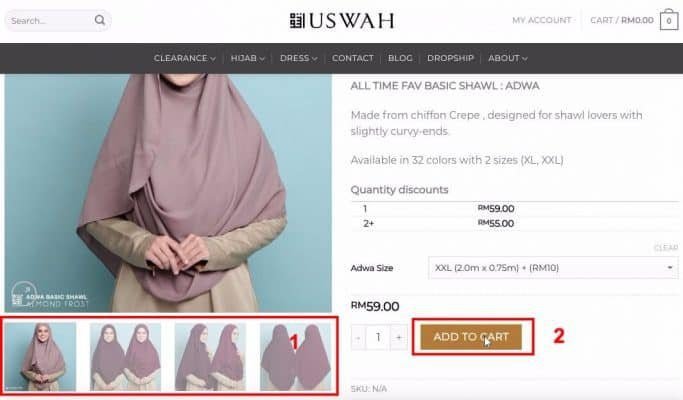 12. Anda akan perasan KOTAK di atas penjuru kanan akan muncul setiap kali anda tambah produk, jika nada terlepas atau hendak keluar, atau menambah produk lain sila klik CART (box 2)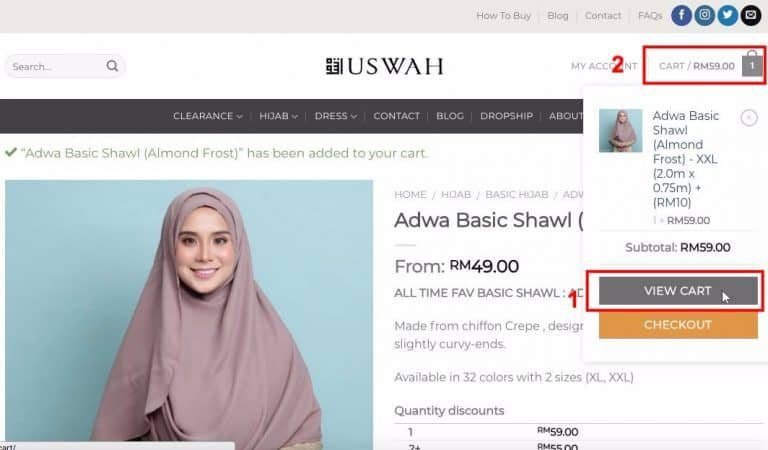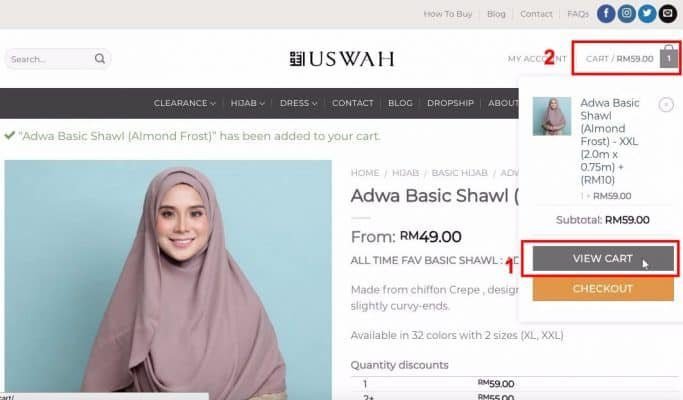 13. Ini ruangan paling penting.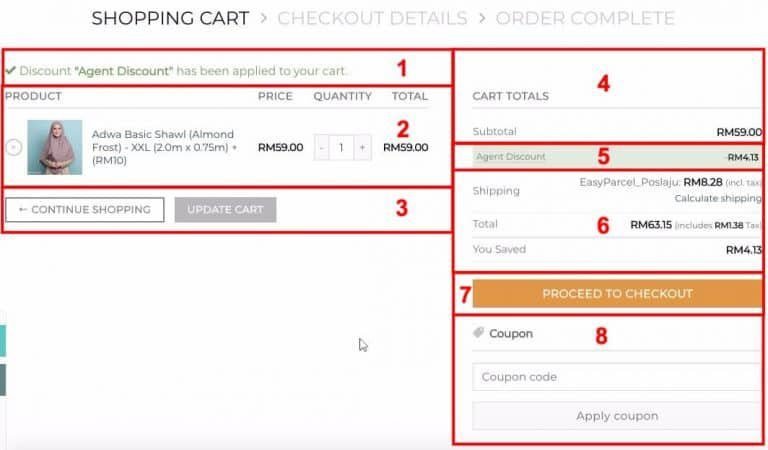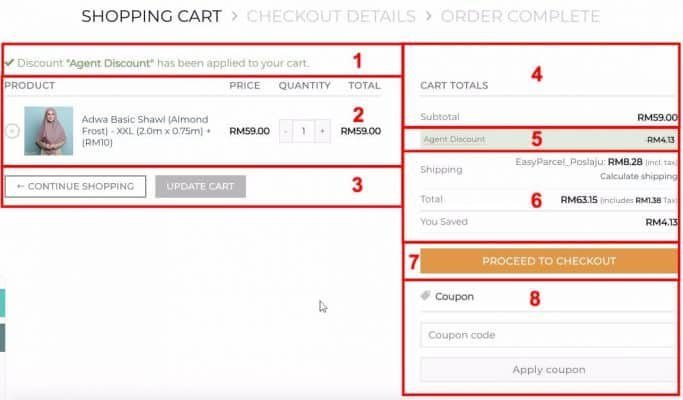 Ada 8 BOX di sini :
a) BOX 1 : Jika ada sebarang diskaun diberikan, mesej ini akan muncul.
b) BOX 2 : Nama Produk yang anda pilih termasuk HARGA (price), KUANTITI (quantity) dan JUMLAH HARGA (total price)
** Jika anda ingin menambah kuantiti bagi produk yang sama sila klik icon (+) di ruangan QUANTITY dan klik UPDATE CART
c) BOX 3 : Jika nada ingin membeli produk lain, klik CONTINUE SHOPPING
d) BOX 4 : BUTIRAN JUMLAH KESELURUHAN : Jumlah kecil tidak termasuk kos penghantaran.
e) BOX 5 : BUTIRAN BOX 1, jumlah diskaun yang diberikan.
f) BOX 6 : Kos penghantaran beserta cukai, JUMLAH KESELURUHAN YANG PERLU ANDA BAYAR dan BERAPA BANYAK PENJIMATAN anda dapat apabila membeli dengan kami.
g) BOX 7 : Teruskan ke CHECKOUT untuk pembayaran.
h) BOX 8 : Jika add KUPON diberikan, sila SERTAKAN KOD di sini dan klik APPLY COUPON. Secara automatik ia akan mengira kembali jumlah keseluruhan pembayaran.
14.Jika anda ingin MENAMBAH ATAU MENOLAK KUANTITI PRODUK, klik '(-) tolak atau (+)tambah ' di dalam box 1 dan klik UPDATE CART (box 2). klik UPDATE CART setiap kali anda merubah kuantiti produk.
Jika add KUPON diberikan, sila SERTAKAN KOD di sini(box 3). Kemudian klik "CHECKOUT".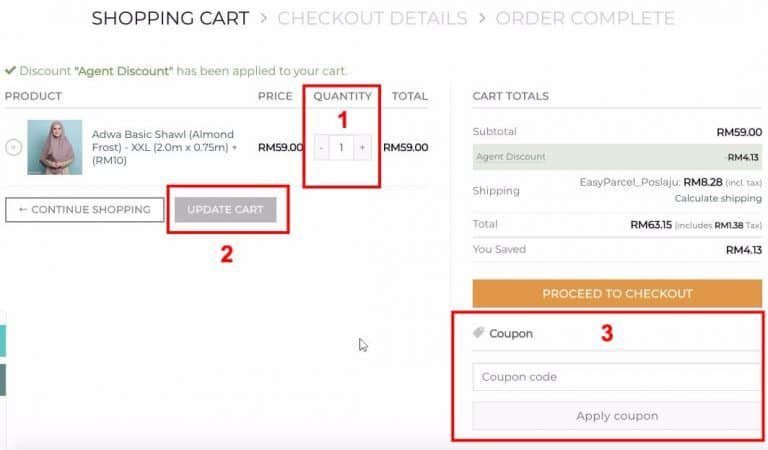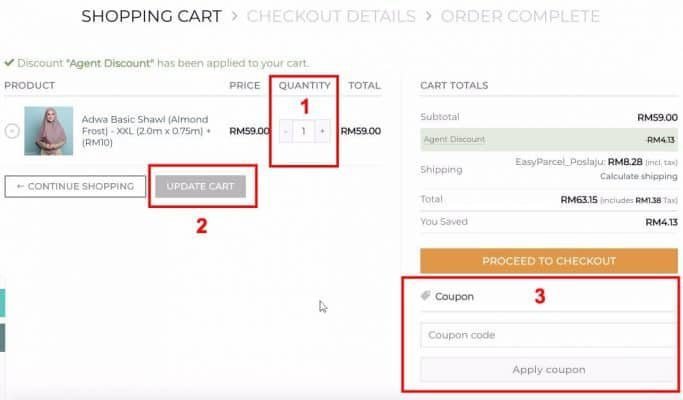 15. JIka anda klik CHECKOUT, anda akan jumpa seperti di bawah. Ada 2 BOX UTAMA :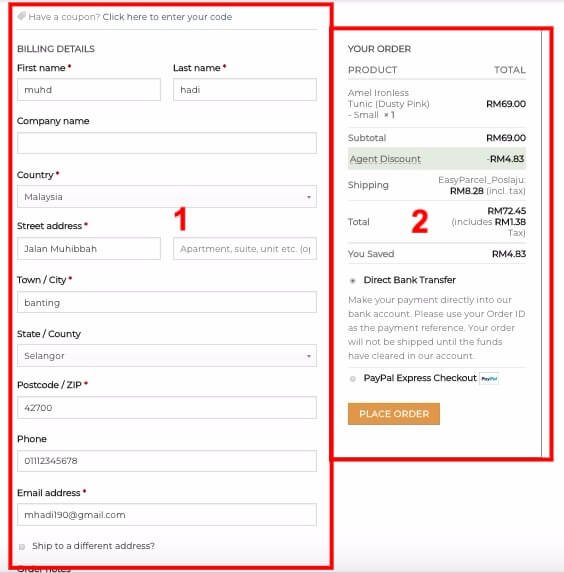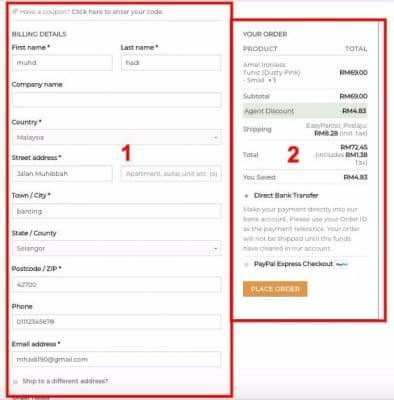 a) KIRI (box 1) : BILLING ADDRESS dan SHIPPING ADDRESS.
Secara auto, SHIPPING ADDRESS ialah sama dengan BILLING ADDRESS namun jika anda ingin menghantar ke alamat berbeza seperti alamat keluarga dan rakan-rakan untuk hadiah klik OPTION : SHIP TO A DIFFERENT ADDRESS dan lengkapkan butiran (lihat contoh di bawah)
b) KANAN (box 2) : butiran pembelian anda.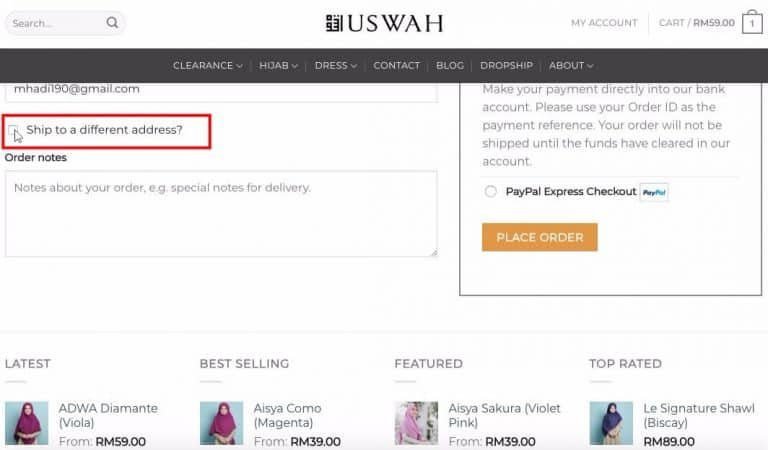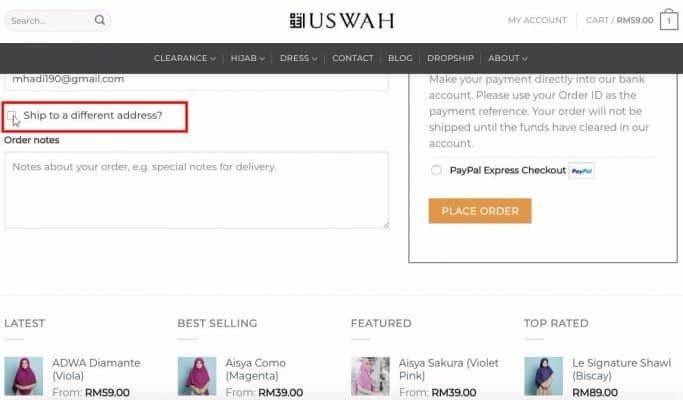 16. Jika anda TERLEPAS mengisi KOD KUPON. Klik di bahagian atas kiri untuk mengisi KOD KUPON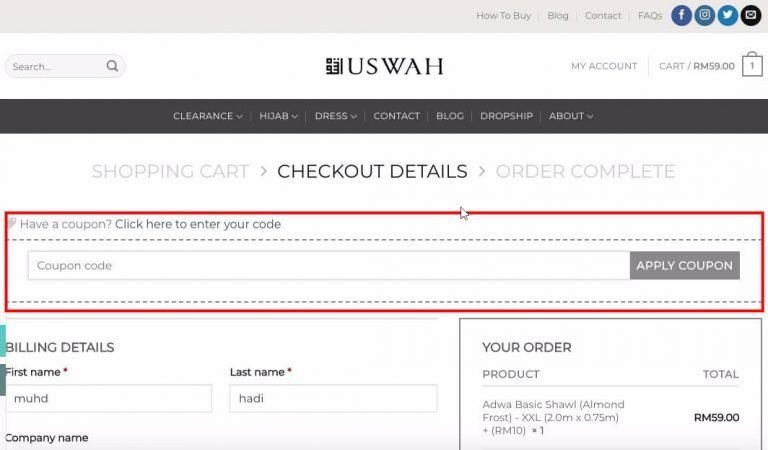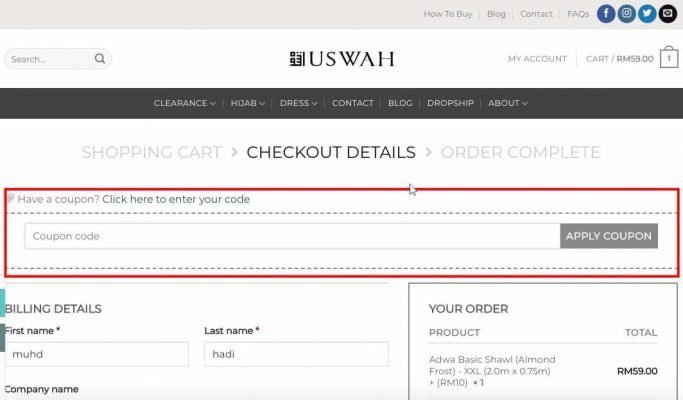 17. Jika anda ada sebarang pesanan. Sila isi ruangan ORDER NOTE seperti contoh di bawah :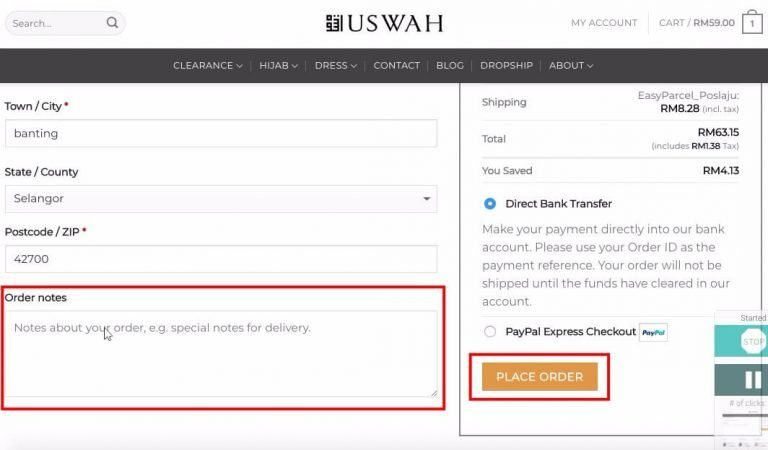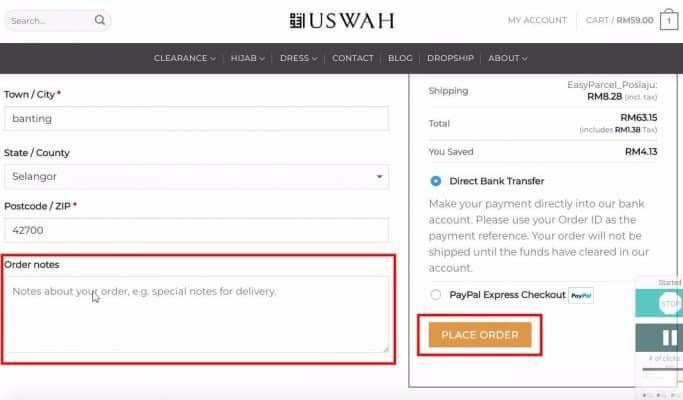 SETELAH SEMUANYA PASTI, klik PLACE ORDER.
Untuk pembayaran kami menyediakan 3 pilihan :
a) DIRECT BANK TRANSFER : anda membuat pembayaran secara manual (ATM transfer, Bank Portal seperti Maybank2u) ke akaun kami
b) PAYPAL : Pembayaran terus akaun Paypal kami.Instant payment directly to Paypal Account
c) MOLpay : Pembayaran terus ke akaun kami melalui mana-mana bank pilhan anda (Tiada caj tambahan)
d) Pickup at Boutique : Anda membuat pembayaran terlebih dahulu dan mengambil produk di butik kami. Sila checkout dulu dan kami akan update serta menolak kos penghantaran untuk pembayaran.
Kami mengesyorkan anda membuat pembayaran terus melalui MOLPay bagi mencepatkan proses pembelian.
Kami akan mengemas kini lebih pilihan kepada anda untuk membuat pembayaran terus kepada kami pada masa hadapan.
18. Butiran pembelian seperti di bawah :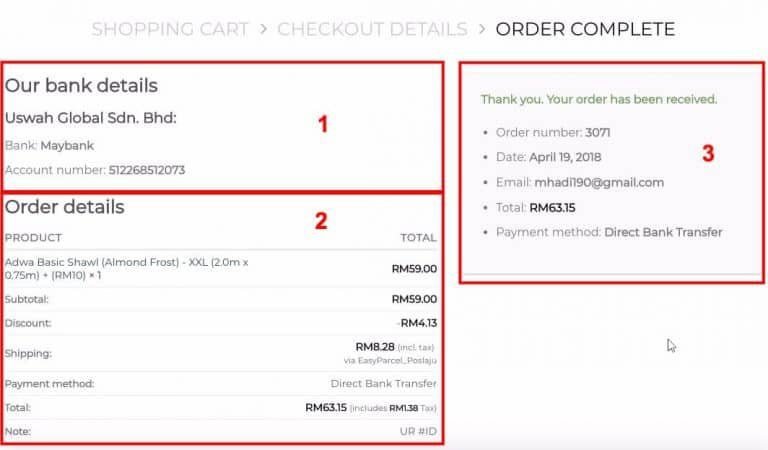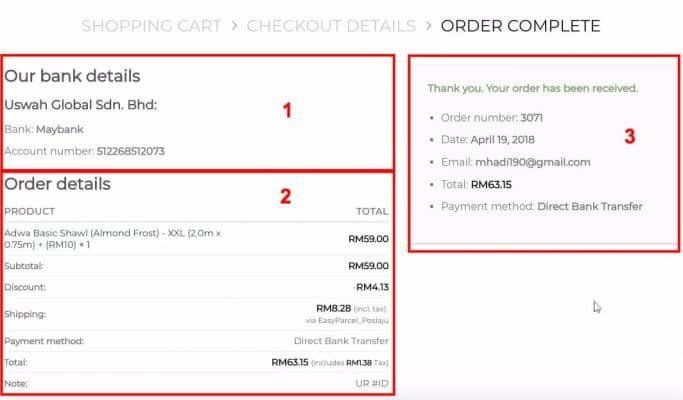 a) BOX 1: Buat pembayaran ke no.akaun kami
b) BOX 2: Butiran pembelian.
c) BOX 3 : ORDER ID# dan butiran. Sila simpan ORDER ID# untuk sebarang kemaskini atau pertanyaan
18. Kami juga menghantar STATUS pembelian anda di email.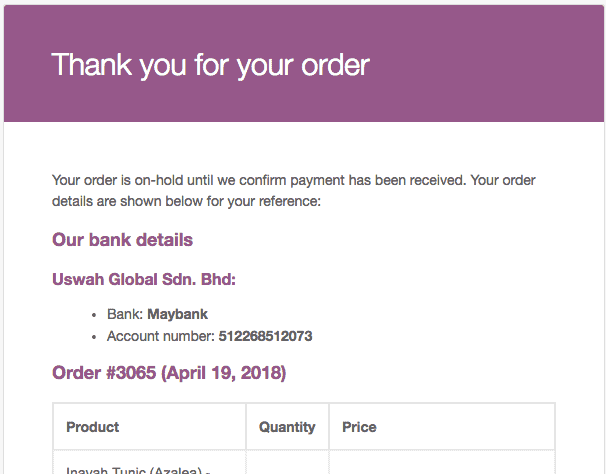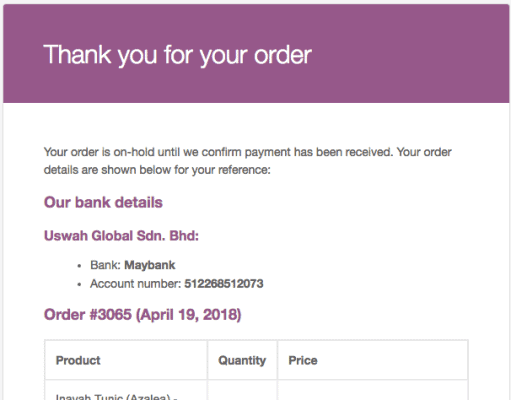 Status pembelian anda seperti berikut :
a) ON-HOLD : Pembayaran belum dibuat atau pembayaran belum dimasukkan ke akaun bank kami.
b) PROCESSING : Kami telah menerima pembayaran anda dan sedang proses untuk penghantaran.
c) COMPLETED : Produk anda telah dihantar dan kami juga menghantar TRACK CODE untuk anda jejak pembelian anda.
Kami guna perkhidmatan POSLAJU untuk kesemua tempahan. Melainkan anda luar dari Malaysia. Sila memaklumkan kepada kami jika anda berada di luar Malaysia dan kami akan kira kos penghantaran.
Setakat ini kami juga menyediakan penghantaran ke Brunei, Singapura, Indonesia dan juga United Kingdom.
Anda boleh jejak penghantaran melalui akaun anda https://uswah.my/track-order/
atau letak TRACK KOD di KOTAK MERAH JAMBU di bawah website (FOOTER OF WEBSITE)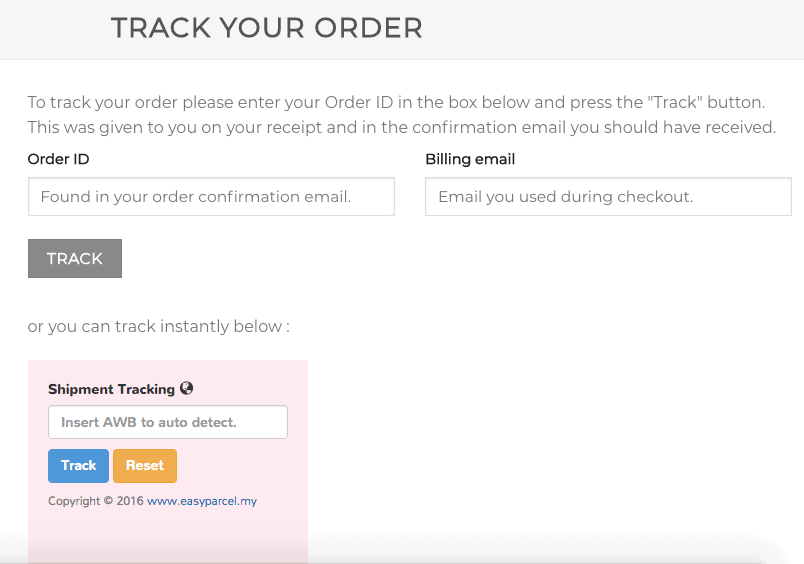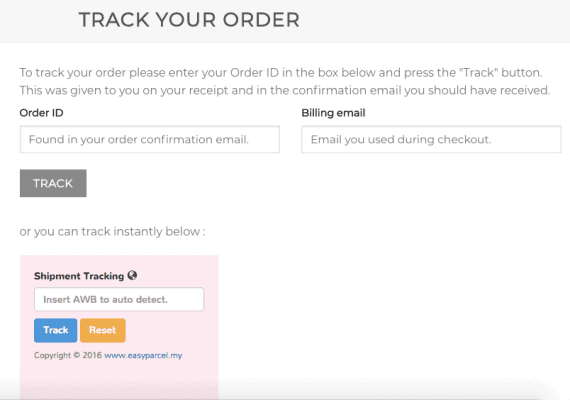 TUTORIAL IN ENGLISH
1.Visit us https://uswah.my
2.Click LOGIN as shown below (for web browser):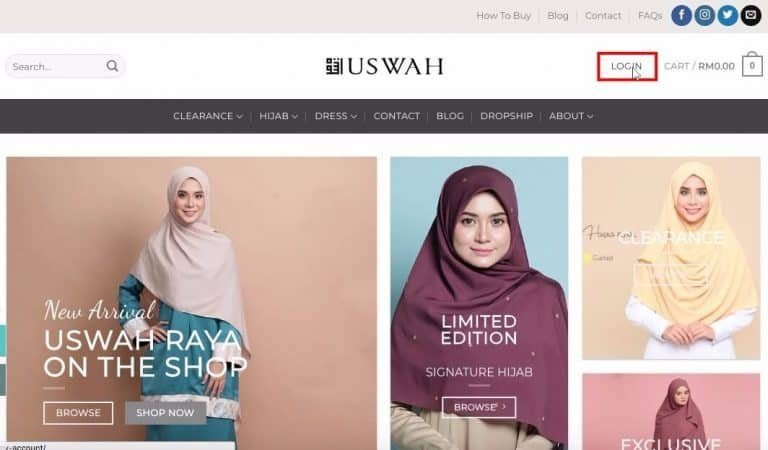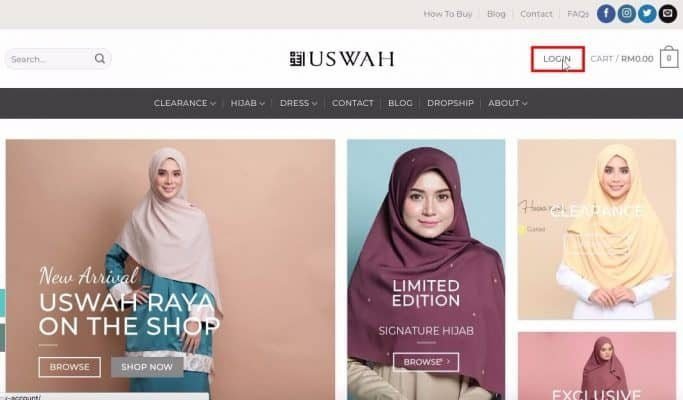 if you visit from Mobile Phone it will shown as below :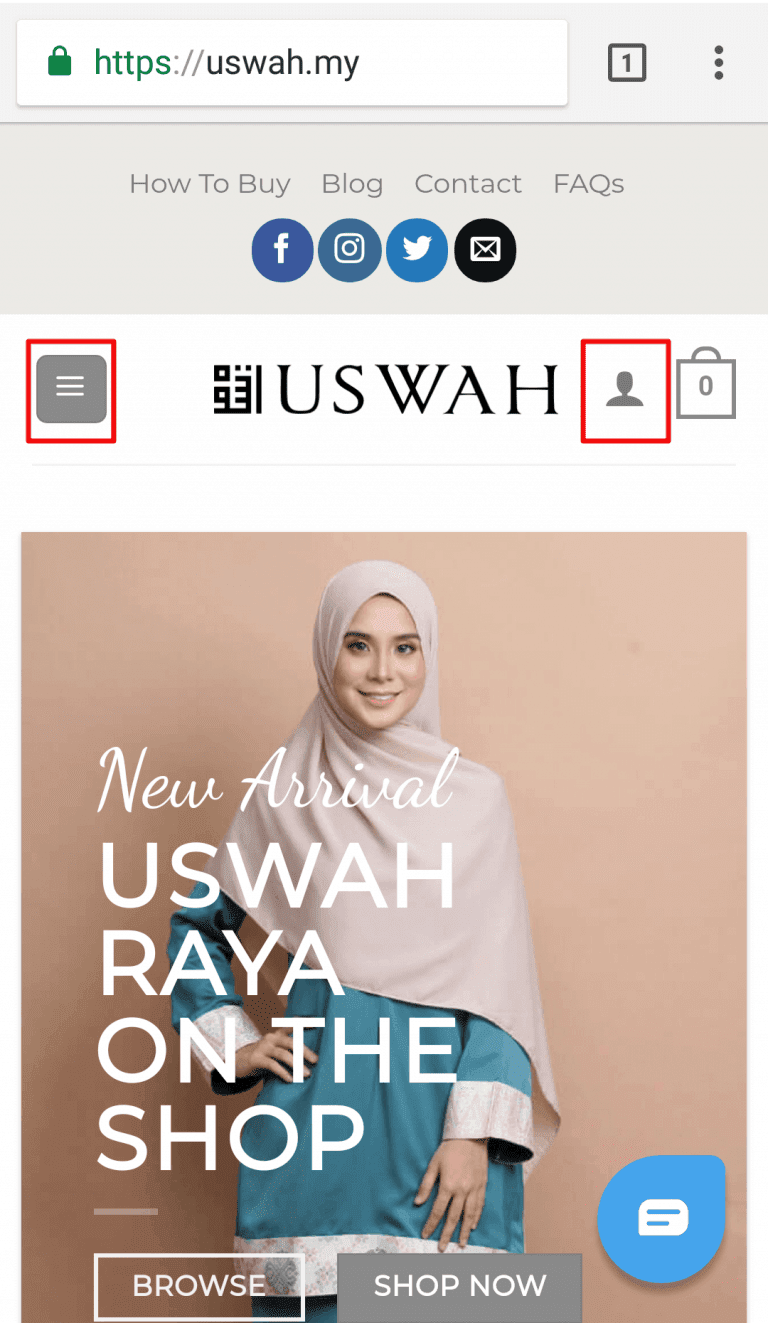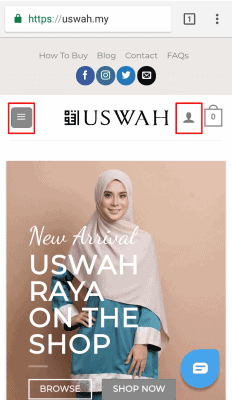 for Mobile Phone there are 2 way to REGISTER :
a) Click or 'PERSON ICON' on right and choose REGISTER at second column.
b) or 'BURGER MENU' on left screen. If BURGER MENU is choose it appear as below and choose 'LOGIN' and choose REGISTER at second column.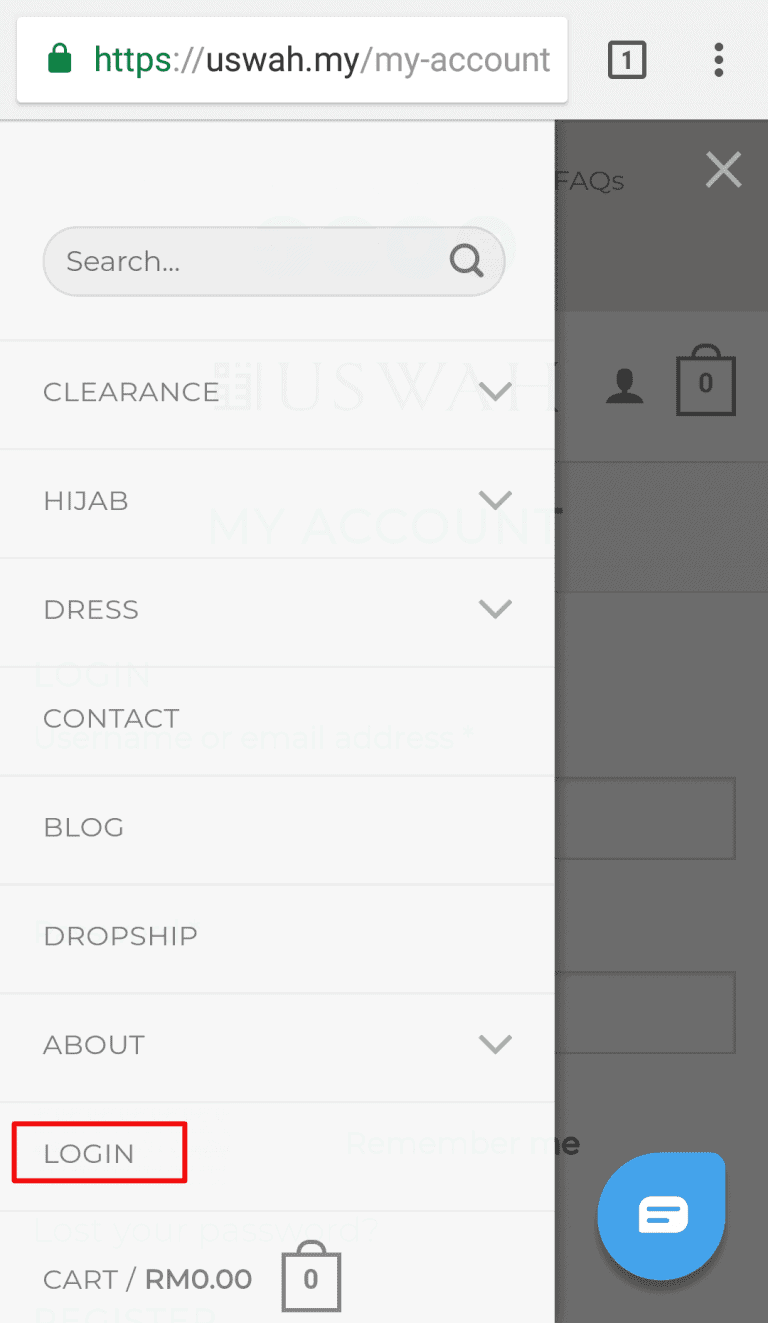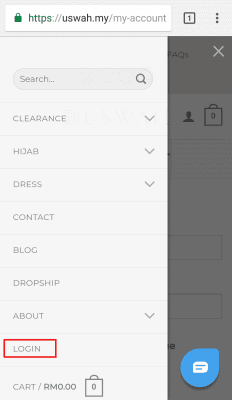 3. Choose RIGHT TAB and field the form : EMAIL & PASSWORD and click REGISTER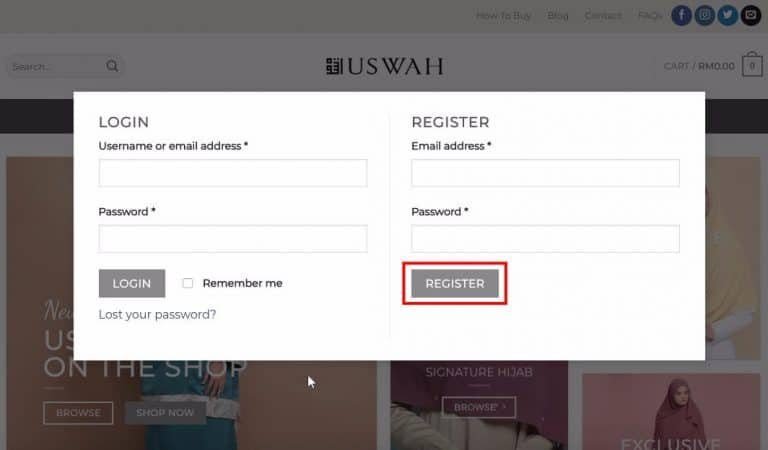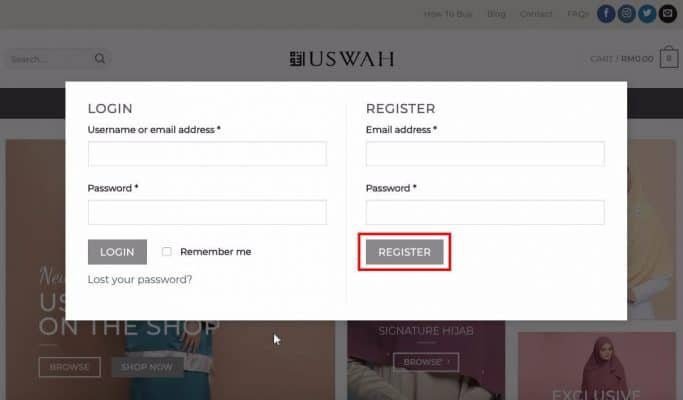 3. Once you register, you can buy directly our product from our website. We also send link email to your mailbox as below for your reference.


4. Our Product have 3 Main Category which is CLEARANCE, HIJAB AND DRESS as below :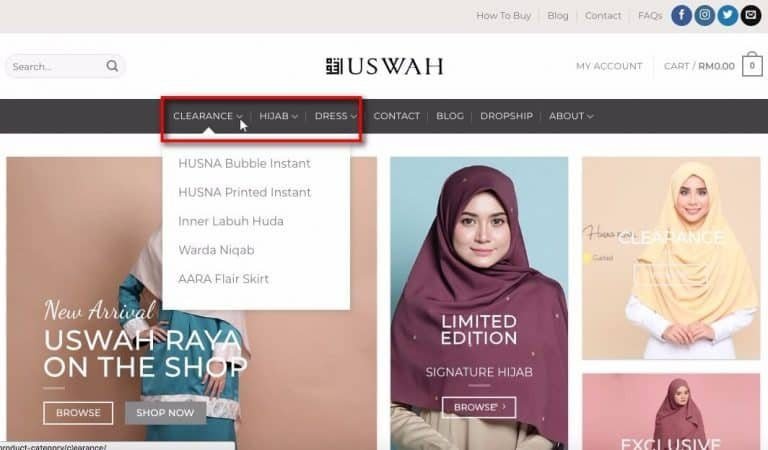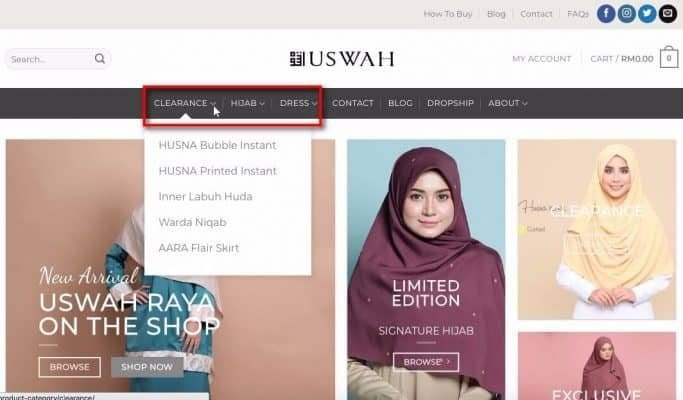 5. Each MAIN CATEGORY, we have sub category. You may browse which suit your need.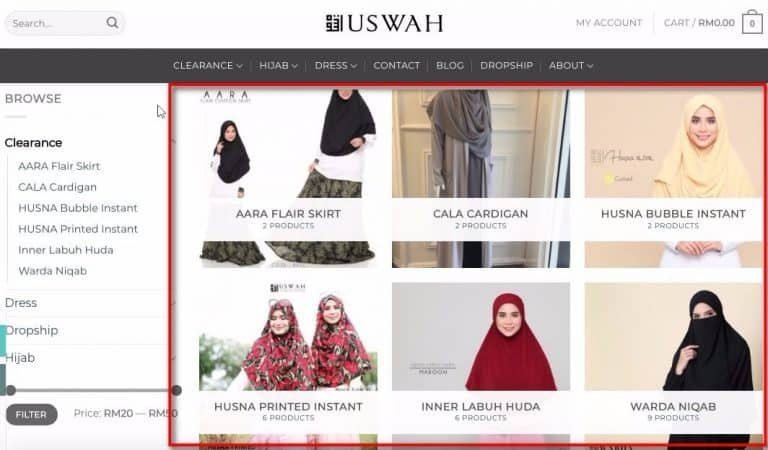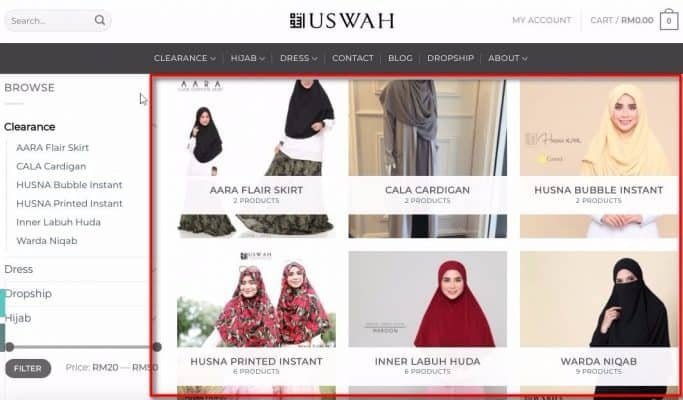 6. Each Category you want to find, there is darker background colour of category you click to help you find the right products.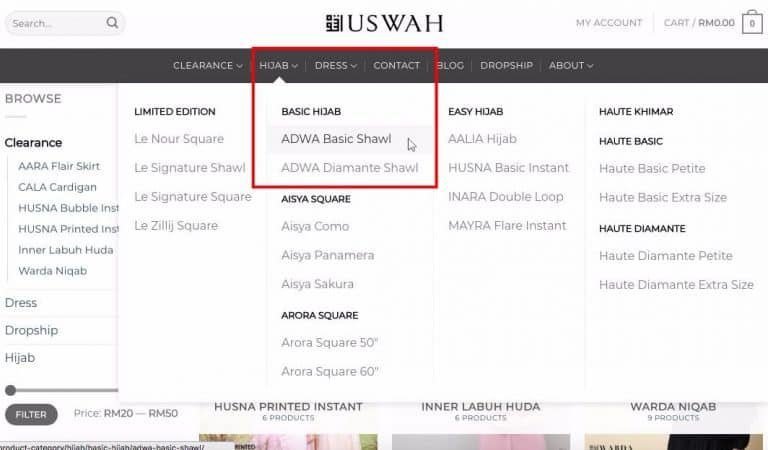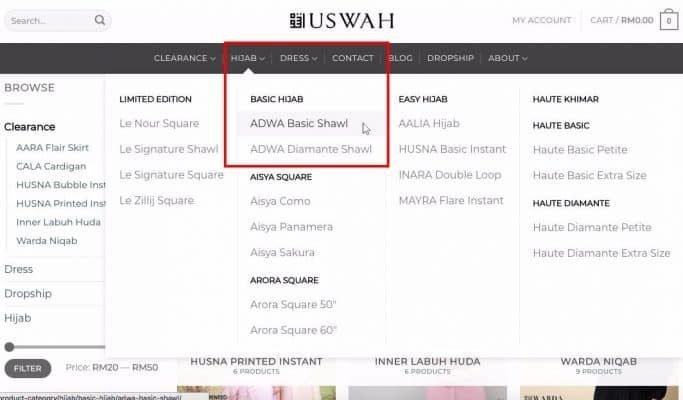 7. Once you choose such as ADWA Basic Shawl, click select OPTION or THE PICTURE ITSELF.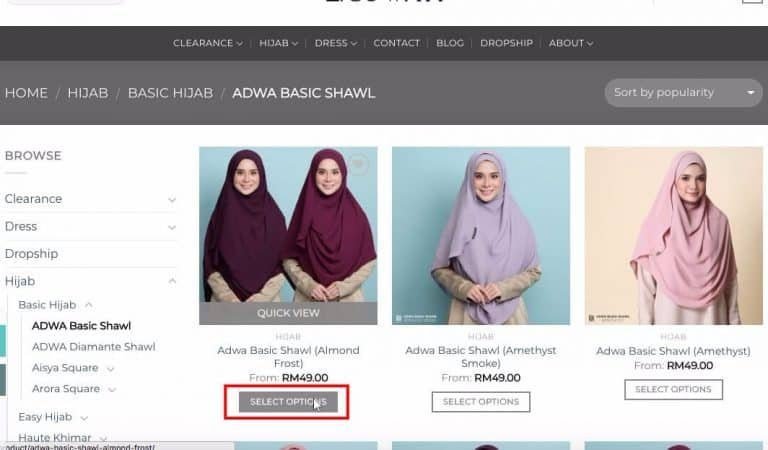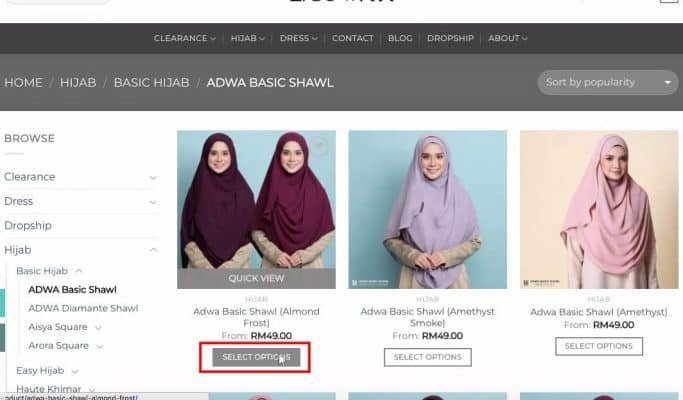 8. Choose an option of your desired product. It may size or additional option such as DIAMANTE for several product under HIJAB.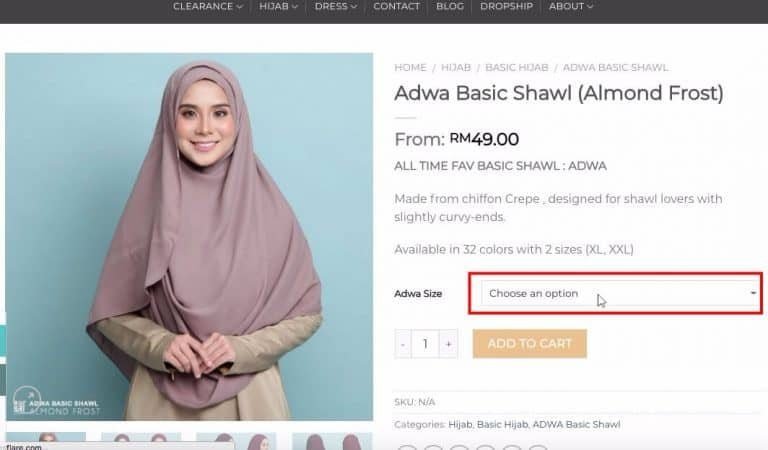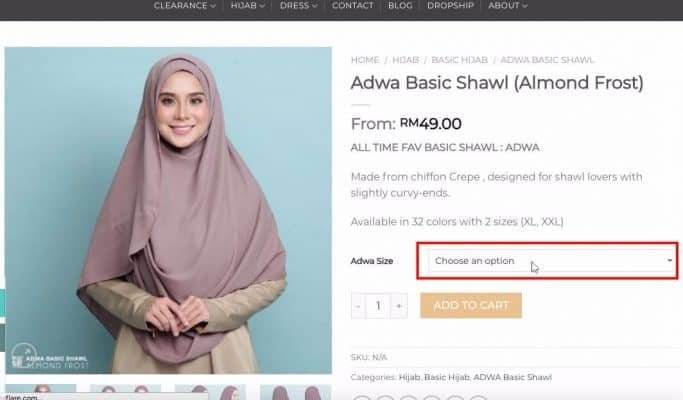 9. For an example we have 2 size option for ADWA Basic Shawl where XXL size have additional price due to its dimension.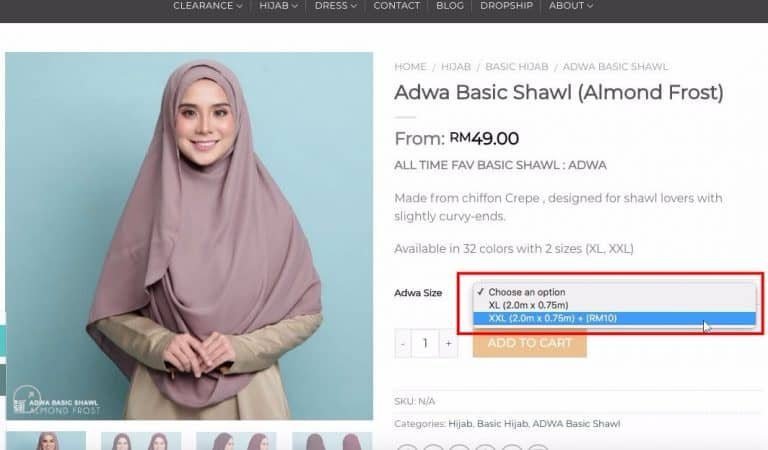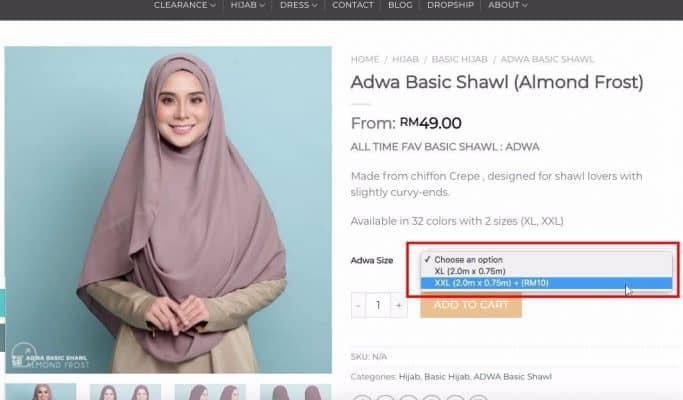 10. Under main image (box 1), you may find additional picture that may contain picture of comparison size, additional option such as DIAMANTE.
Once you confirm your option, please click ADD TO CART (box 2) for checkout.
** If you notice at the price given. There is discount depend on quantity. Most our product can be purchase with Combo of 2 or bulk pricing.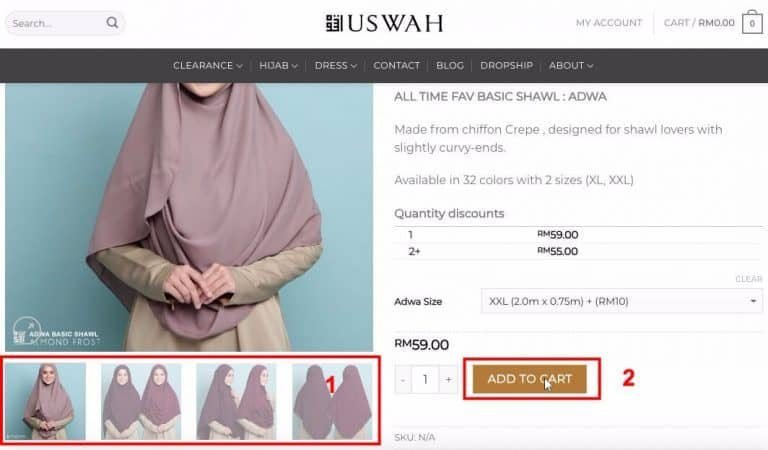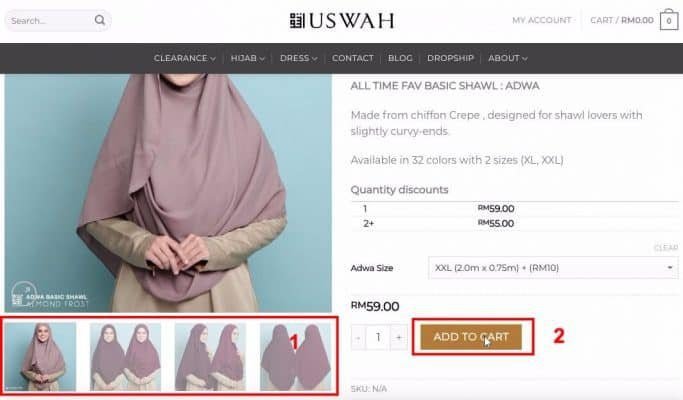 11. You may notice A BOX at top right corner appear once you add a product (box1), if you missed it or want to checkout or shopping another product click on CART (box 2) for checkout.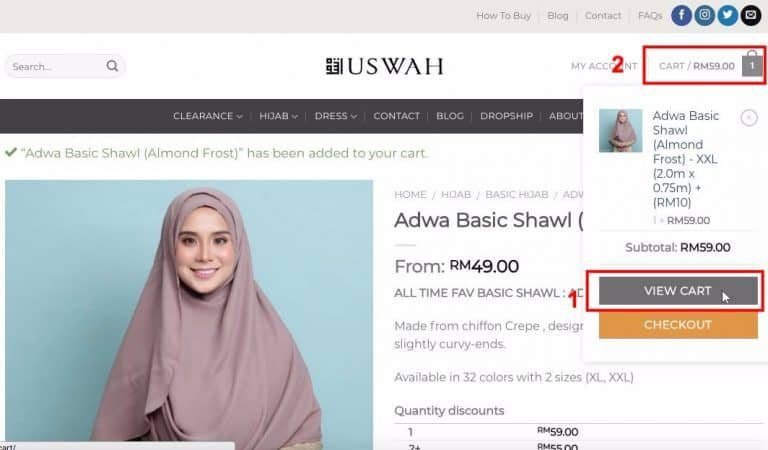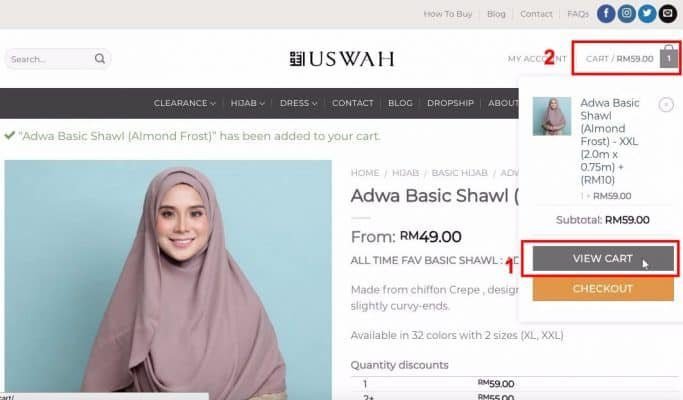 12. This is very important details.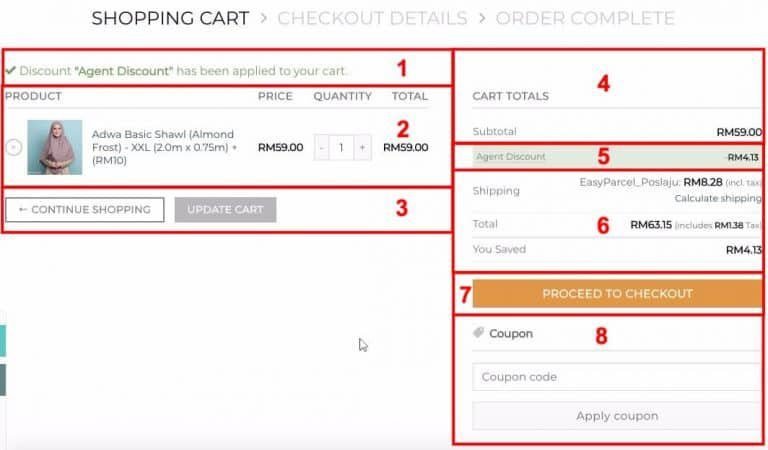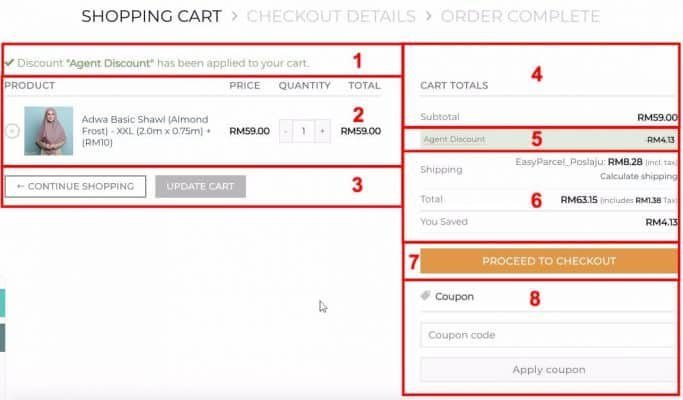 There is 8 BOX where :
a) BOX 1 : If any discount are applied, this notification are appear.
b) BOX 2 : The product you choose including PRICE, QUANTITY and TOTAL PRICE.
c) BOX 3 : Option if you want to add or continue shopping our products.
d) BOX 4 : CART TOTAL DETAIL : Subtotal not including shipping.
e) BOX 5 : Details of BOX 1 if any discount are added to the cart.
f) BOX 6 : Shipping Charge with tax, TOTAL AMOUNT YOU HAVE TO PAY and HOW MUCH YOU SAVE once you shopping with us.
g) BOX 7 : Proceed for CHECKOUT to make payment.
h) BOX 8 : If any COUPON are given, PASTE THE CODE here and click APPLY COUPON. It automatically recalculate your total payment.
13. If you want to ADD OR REDUCE QUANTITY of the product you choose please click 'MINUS or ADD SYMBOL' in the box 1 and click UPDATE CART (box 2). CLICK UPDATE CART every time you change the quantity.
If any coupon you have, please paste the code as in box 3. Then click to CHECKOUT.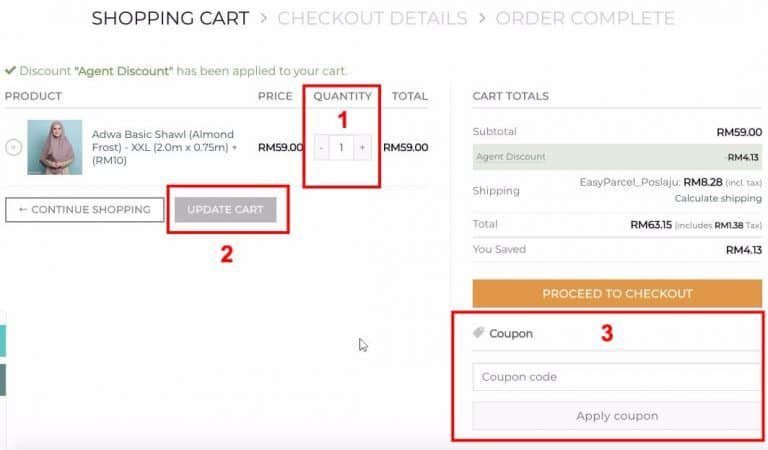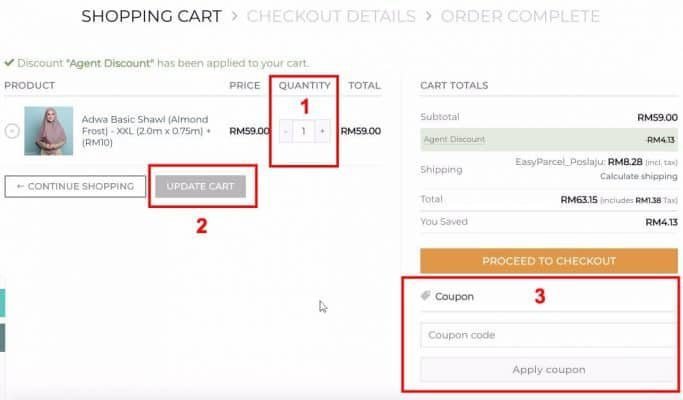 14. If you click CHECKOUT, you may find as below. There are 2 main box :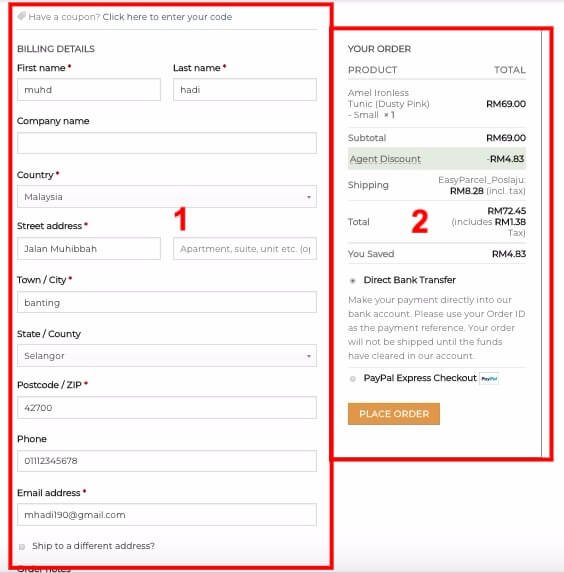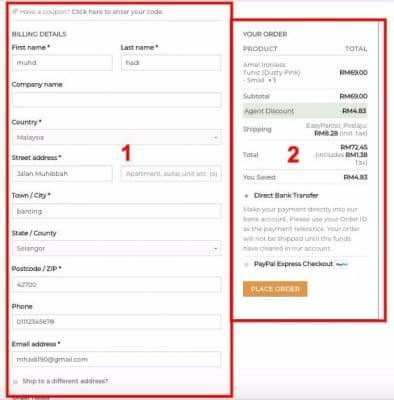 a) LEFT (box 1) : your BILLING ADDRESS and SHIPPING ADDRESS.
As default, SHIPPING ADDRESS IS SAME WITH BILLING ADDRESS but if you want to ship to other destination such as you family and friends for a gift click on OPTION : SHIP TO A DIFFERENT ADDRESS and complete the details (SEE EXAMPLE BELOW)
b) RIGHT (box 2) : your order details.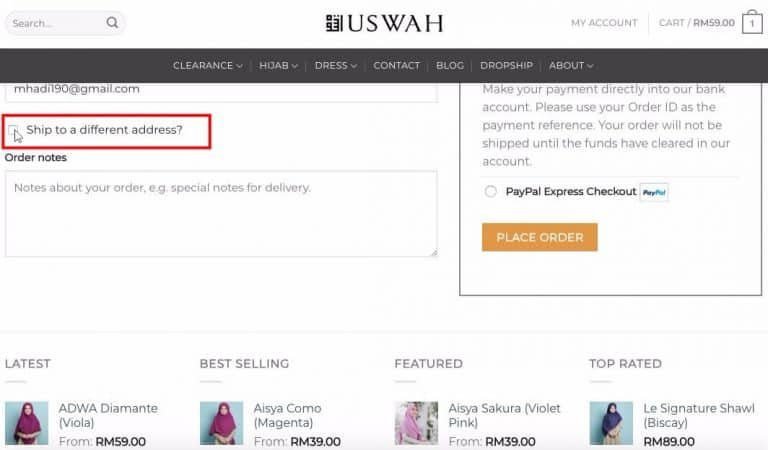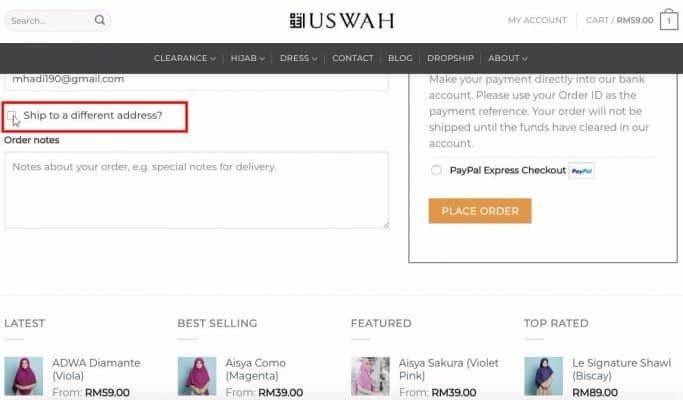 15. If you MISSED to apply your COUPON CODE. Please click on top of LEFT CORNER to apply your COUPON CODE.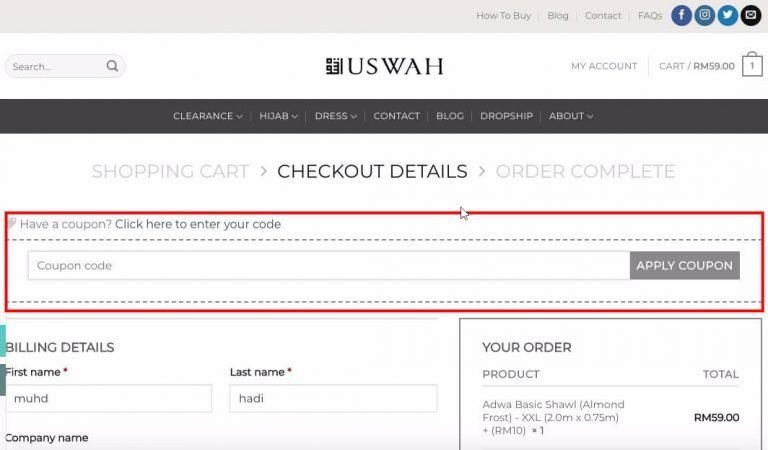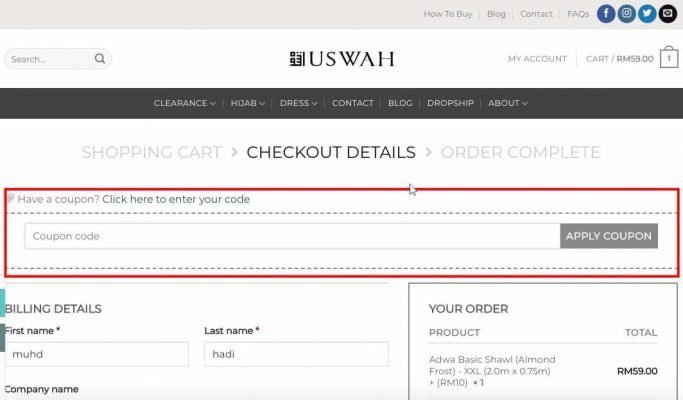 16. If you have any note to us. Please fill the box ORDER NOTE as below example.
ONCE EVERYTHING IS CONFIRM. Click PLACE ORDER.
For payment, we have 2 option :
a) DIRECT BANK TRANSFER where you transfer to account by yourself.
b) PAYPAL : Instant payment directly to Paypal Account
We will update more option for you to make instant payment with secure in future.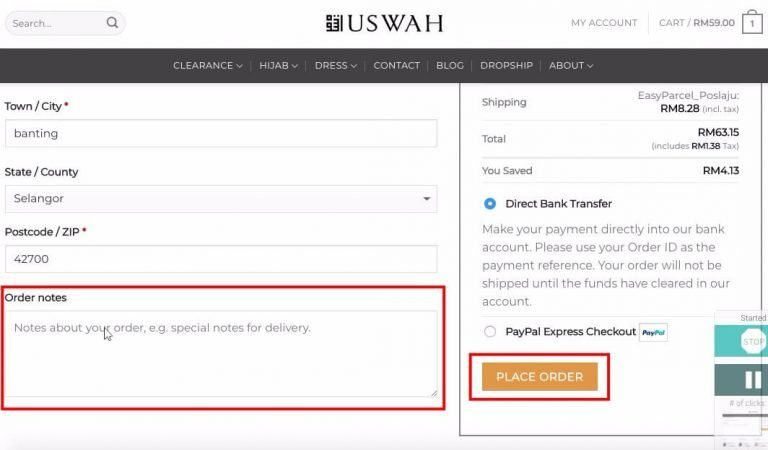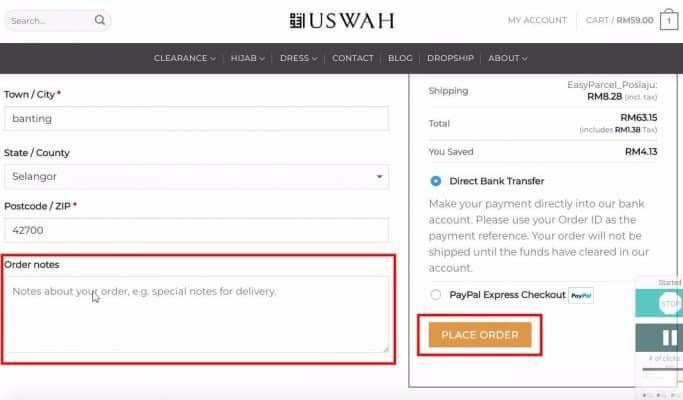 17. Your order details as below :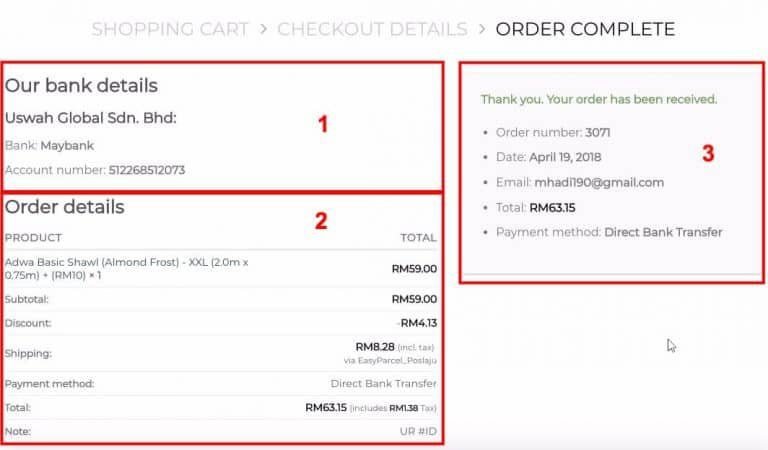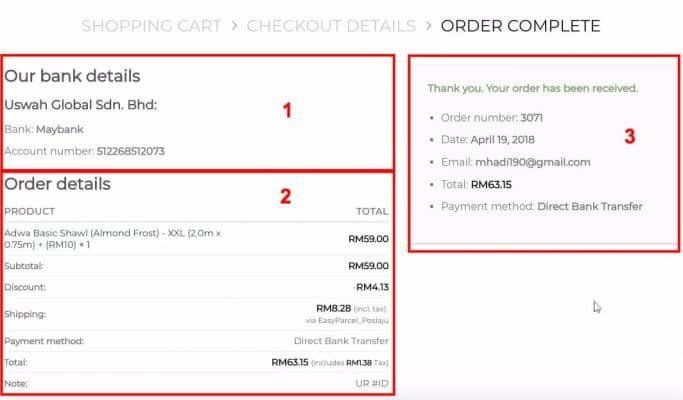 a) BOX 1: Please make a payment to our account
b) BOX 2: Your order details
c) BOX 3 : YOUR ORDER ID# and details
18. We also send STATUS of your product to your email.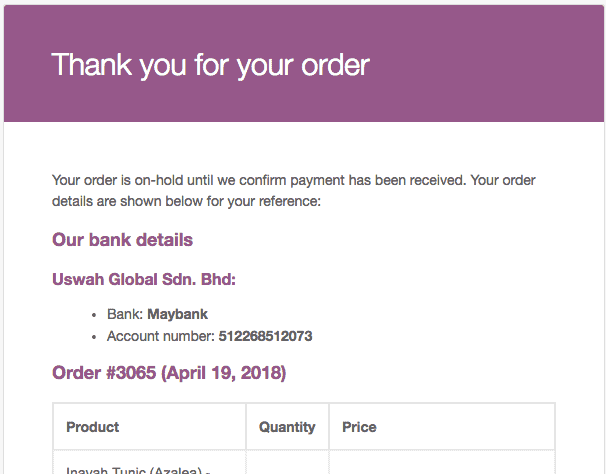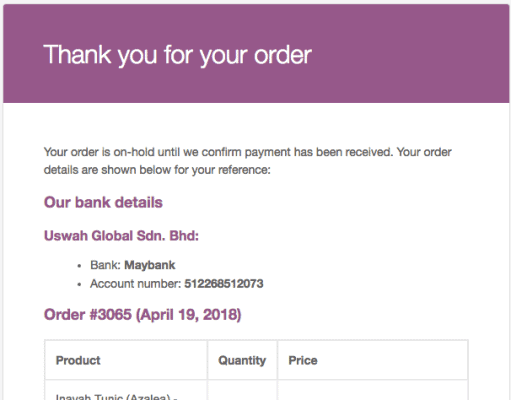 Status of your order as follow :
a) ON-HOLD : Payment are not been done or payment are not clear to our bank account.
b) PROCESSING : We have receive your payment and process your order for shipping.
c) COMPLETED : Your item have been shipped and we also send track code for you to track your order.
Normally we use POSLAJU for our order. Unless you are outside Malaysia. Please inform us and we will calculate the cost shipping.
You can track your order via your account https://uswah.my/track-order/
or paste your TRACK YOUR ORDER at PINK BOX at bottom or at our FOOTER OF WEBSITE