1) Layari laman web kami htps://uswah.my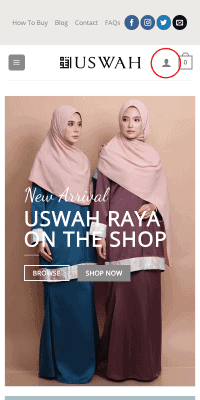 2) Klik pada icon 👤 dan pilih ruangan 'REGISTER' di bawah 'LOGIN' Sila isikan ruang 'EMAIL & PASSWORD' dan klik 'REGISTER'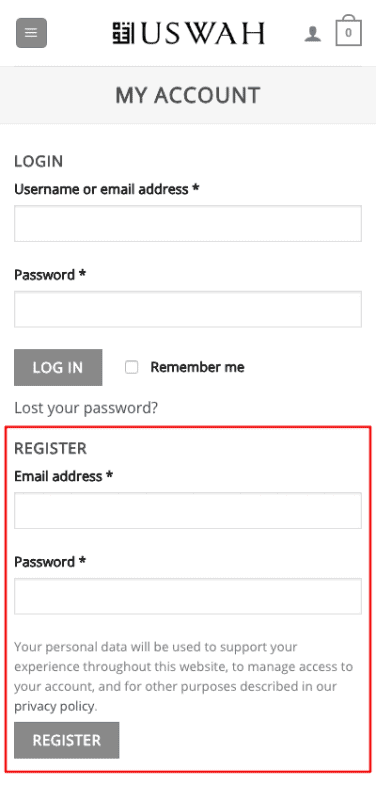 3) Klik 'MY ACCOUNT' > 'ACCOUNT DETAILS' dan isi ruangan 'FIRST NAME' , 'LAST NAME' dan 'DISPLAY NAME' dan klik 'SAVE CHANGES'

4) Klik 'ADDRESSES' dan pilih 'BILLING ADDRESS' dan klik 'EDIT' dan isi semua ruangan dan klik 'SAVE ADDRESS'. Begitu juga bahagian 'SHIPPING ADDRESS' dan klik 'EDIT' dan isi semua ruangan dan klik 'SAVE ADDRESS'.

5) Untuk memilih dan mencari produk, sila klik icon
'BURGER MENU'
di penjuru kiri atas seperti di bawah ini.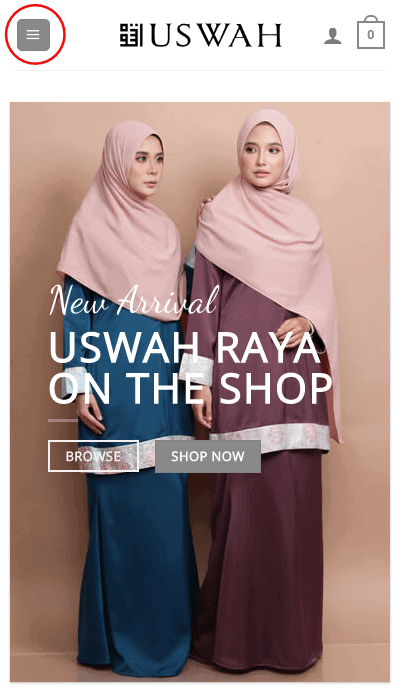 6) Akan keluar menu kategori utama seperti di bawah.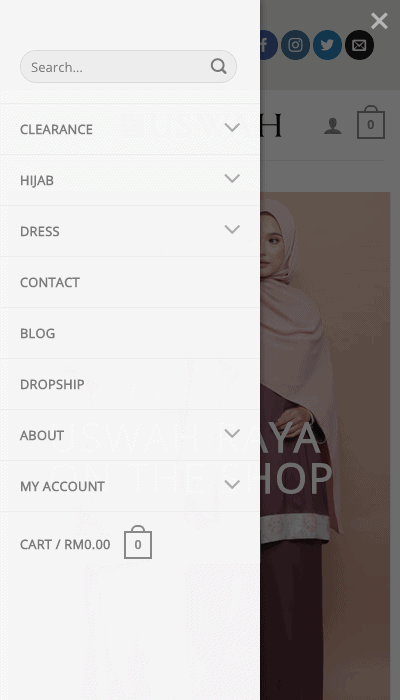 7) Setiap produk ada pilihan dari segi saiz dan pilihan seperti di bawah, klik gambar produk atau terus '
SELECT OPTION'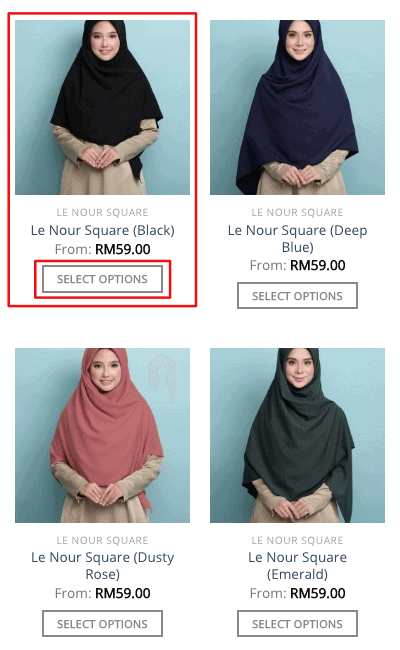 8) Butiran produk seperti
gambar tambahan dan perbezaan saiz seperti rajah (1)
. Pilih
'SIZE'
dan pilihan anda
rajah (2)
. Kuantiti sila klik simbol
'-'
atau
'+' rajah (3)
dan klik
'ADD TO CART' rajah (4
) setelah pasti. *Info tambahan seperti
berat dan saiz ada di ruangan (5)
setelah size dipilih.

9) Klik
'CART'
atau ikon
'SHOPPING BAG'
di penjuru kanan atas setelah selesai memilih.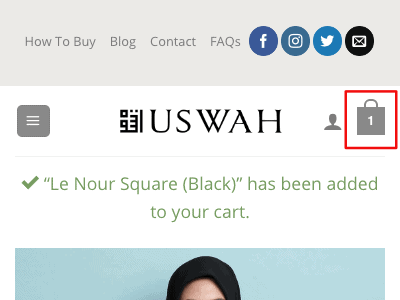 10) Klik
'VIEW CART'
untuk semakan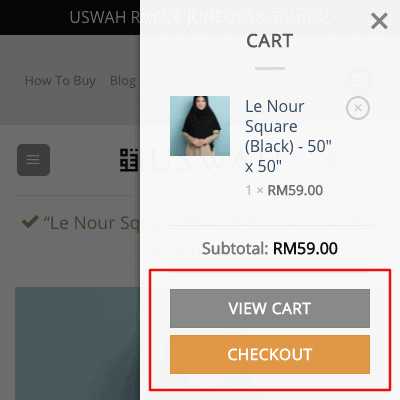 11) Jika anda tak nak produk yang dipilih, tekan simbol
'X'
di tepi kiri gambar produk rajah
(1)
Jika anda hendak tambah atau tolak kuantiti produk yang sama tekan simbol
'-'
dan
'+'
rajah
(2)
'UPDATE CART'
rajah (3)
SETIAP KALI ADA PERUBAHAN PRODUK ATAU KUANTITI.
Untuk penghantaran lihat bahagian
'SHIPPING'
a) Pickup at Boutique : walk in atau datang ke butik kami di Bangi Sentral setelah pembayaran dilakukan.
b) Easyparcel_Poslaju
: kami pos produk anda ke alamat anda rajah
(4)
Klik
'CALCULATE SHIPPING'
rajah
(5)
dan masukkan butiran alamat pos penghantaran. Tekan
'UPDATE TOTAL'
rajah
(6)
untuk jumlah keseluruhan Jika ada
COUPON
sila isi ruangan
(7)
Tekan
'PROCEED TO CHECKOUT'
rajah
(8)
setelah selesai.

12) Isi ruangan
'BILLING DETAILS'
rajah
(1)
Jika anda
pilih untuk pos ke alamat berlainan
dari billing address,
tick 'SHIP TO DIFFERENT ADDRESS'
rajah
(2)
dan
isikan butiran penerima di ruangan rajah (3)
Pastikan anda pilih
'Easyparcel_Poslaju' untuk penghantaran produk ke alamat penerima rajah (4) JUMLAH KESELURUHAN YANG PERLU ANDA BAYAR (TOTAL)
rajah
(5)
Pilih
CARA PEMBAYARAN
yang anda gemar rajah (6)
*Kami sarankan anda bayar melalui Billplz jika anda ada perbankan online kerana kami akan terus proses setelah sistem terima pengesahan.
1) Manual bank transfer
: sama ada transaksi melalui perbankan online atau
cash deposit machine
(CDM) 2) Paypal : jika anda ada akaun Paypal atau link dengan Credit Card atau VISA . Surcaj 5% 3) Billplz : pembayaran terus melalui perbankan online. Tekan
'PLACE ORDER'
setelah pasti 13) Anda
BERJAYA
membuat tempahan.
Pastikan anda ingat NO.ID ORDER untuk rujukan dan pembayaran.

14) Sila lihat inbox email anda, anda akan terima mesej seperti berikut.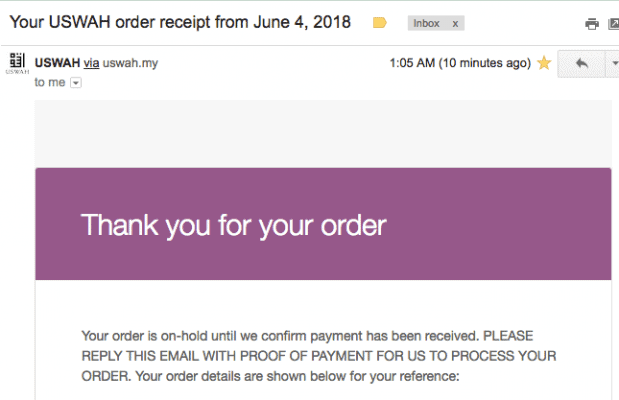 Sila balas email ini beserta bukti pembayaran. 15) PEMBAYARAN melalui online banking seperti Maybank2u, CIMB Click dan sebagainya. Sila isi ruangan
REFERENCE dengan NO.ID ORDER
anda dan
isi ruangan email :

[email protected]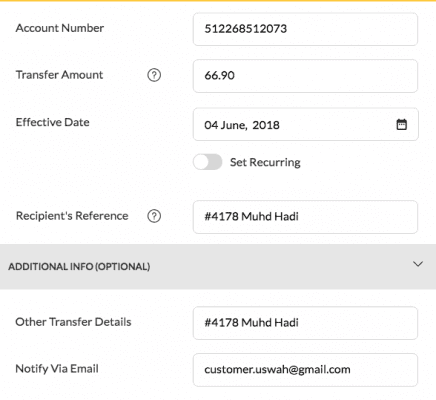 16) Anda balas melalui email yang anda terima di langkah 14 atau forward bukti pembayaran ke
[email protected]
Proses pengesahan akan mengambil 1-3hari waktu bekerja. 17) Anda akan terima email setiap kali proses pengesahan hingga penghantaran dilakukan bagi setiap peringkat. Terima kasih kerana membeli daripada kami 🙂 USWAH Team